Working with a limited budget? That doesn't mean you can't still have a beautiful home. Our interior design firm specialises in finding creative solutions to help homeowners achieve their dream homes within their budget constraints.
In this article, we will explore some affordable interior design ideas that won't compromise the aesthetic of your home. Think alternatives for expensive items such as walk-in wardrobes, kitchen islands and living room feature walls, which can quickly inflate your renovation costs. If you're looking to save some money, here are our best tips:
Petite kitchen island+dining table combo
Instead of going for a full-sized kitchen island, we recommend opting for a smaller one that will take up less material and therefore be more affordable. It can still be as functional as a conventional kitchen island by packing in enough prep space, storage and electrical outlets. But the ultimate power move? Combine it together with your standalone dining table to double up surface area and make it the perfect entertaining hub.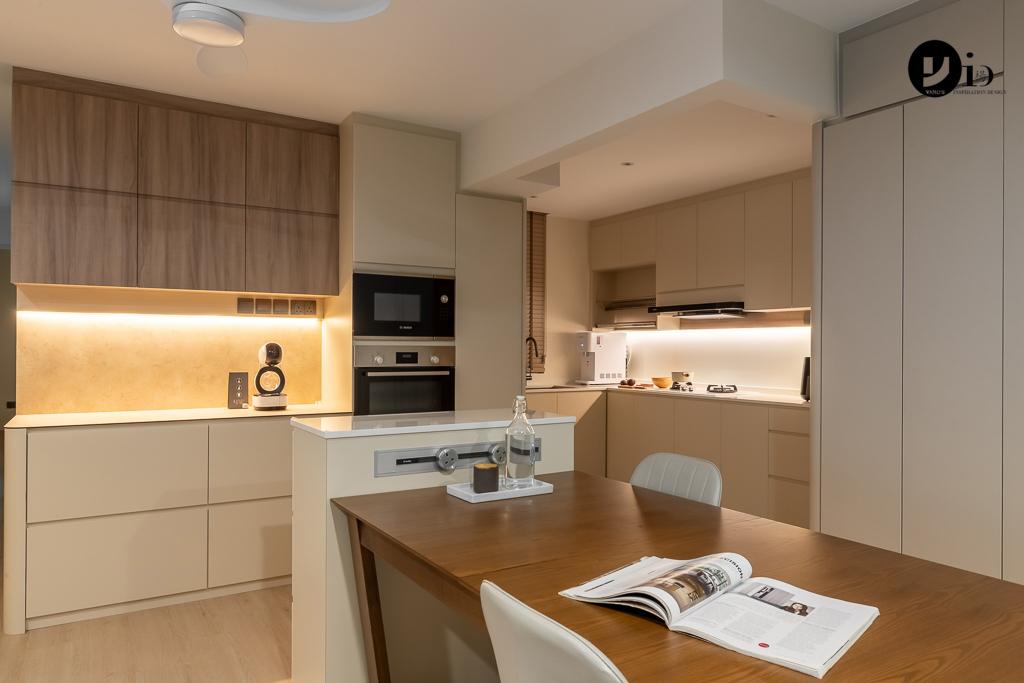 Open shelves in the kitchen
Rather than go for a ton of upper kitchen cabinets just because everyone's doing so, and then later having to think about what to fill them up with, consider open shelves as a more affordable alternative.
Open shelving instead of uppers is a good choice if aren't big on cooking or don't have a lot of kitchen wares. Use them for displaying everyday wares that you use and wash on a regular basis. We don't recommend storing items that seldom get used, since they tend to accumulate dust and grease easily over time.
Marble-effect materials
Marble may be the epitome of sophistication and class, but the real deal costs a pretty penny too. If you want to incorporate this natural stone into your interior design, consider manmade materials that are able to imitate marble. Materials like vinyl, tiles and laminates have been constantly improving their marble motifs, and we are increasingly seeing ones that look like the real thing!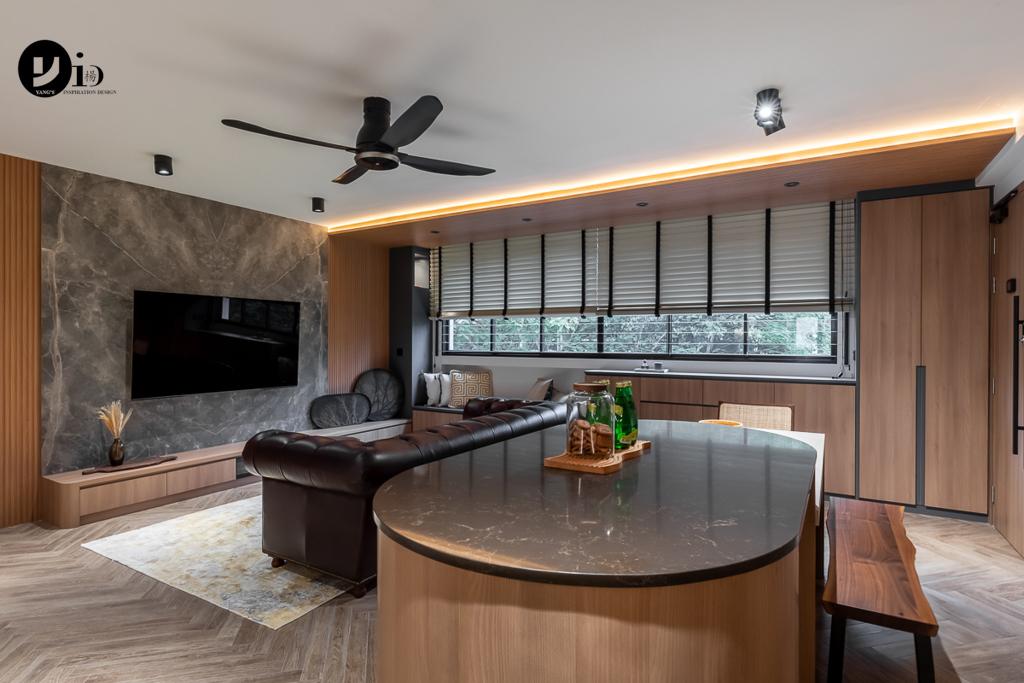 The trick is to go for fewer repetitions and making sure the grains are connected. Bonus: Marble-effect materials are also hardier and easier to maintain than natural marble, and won't require regular sealing.
Painted feature walls
Feature walls don't need to involve bespoke carpentry, which is often the reason why your home renovation tends to be on the expensive side. A nicely painted one can also be equally show-stopping and personalised, and can also anchor the room.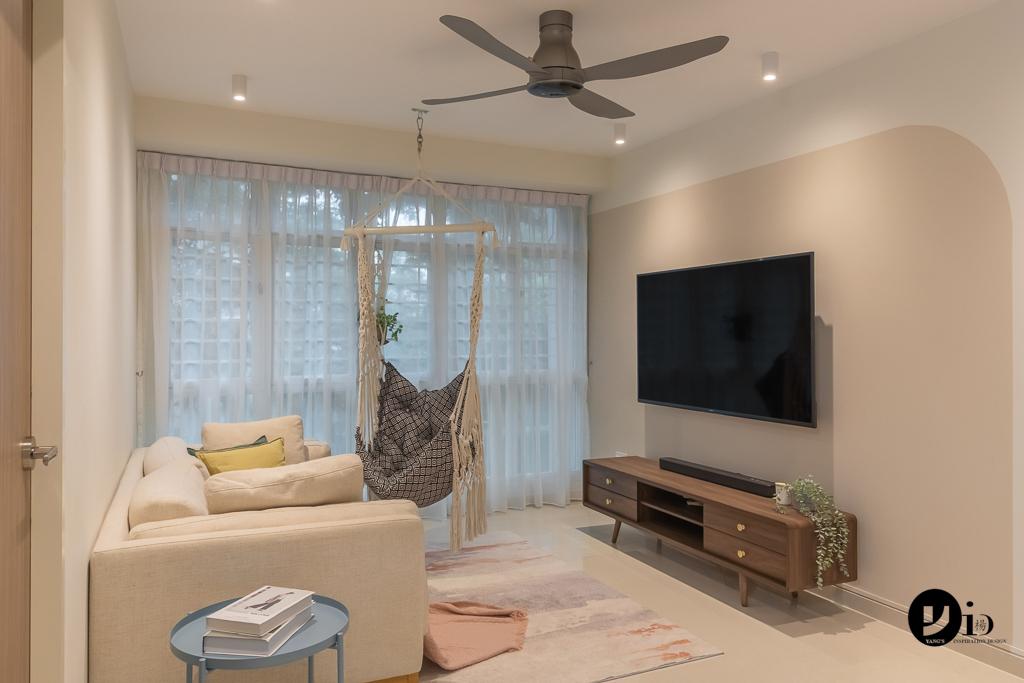 Take this HDB interior design done by our designer Ewan. He opted for a curved edge in this painted feature wall that immediately softens the look of the home. Sure, painted feature walls don't come with storage, but you can always find a suitable console off-the-rack to complete the look.
Closet capsule
At our interior design firm, one of the most requested carpentry works is the walk-in wardrobe. And it comes as no surprise, seeing as it affords privacy, holds plenty of storage space, helps in clothes organisation and is a dream to getting ready in. But a lot of homes in Singapore, particularly with smaller HDB flats and condominiums, is that you will need to either sacrifice a room (tough if you have a big household) or hack down some walls, which will drive up renovation costs.
Instead of a full-fledged walk-in wardrobe that takes up a ton of footprint anyway, consider going for what we call here, a closet capsule. All it takes up is a part of your bedroom, similar to a room within a room of sorts. Go with open compartments within to mimic the look of an actual walk-in wardrobe, and you can even incorporate more than a single access to the closet to make things more convenient for you.
Fold-up vanity mirror
If you're considering adding a custom-built dressing table to your bedroom to make your morning and evening routines more convenient, you might be considering a full-height mirror to complete the setup. However, it's worth noting that larger mirrors—as grand as they are—tend to be quite expensive and could potentially incur additional delivery costs as they might not fit inside lifts, requiring delivery personnel to carry them up the stairs.
Going for a fold-up vanity mirror instead will help make things a bit more affordable. It will give you more flexibility in terms of where you want the dressing table to be at e.g. below a window (psst, natural lighting is great for makeup). Plus, the mirror can be folded back down for more countertop space or to double up the area as a workstation.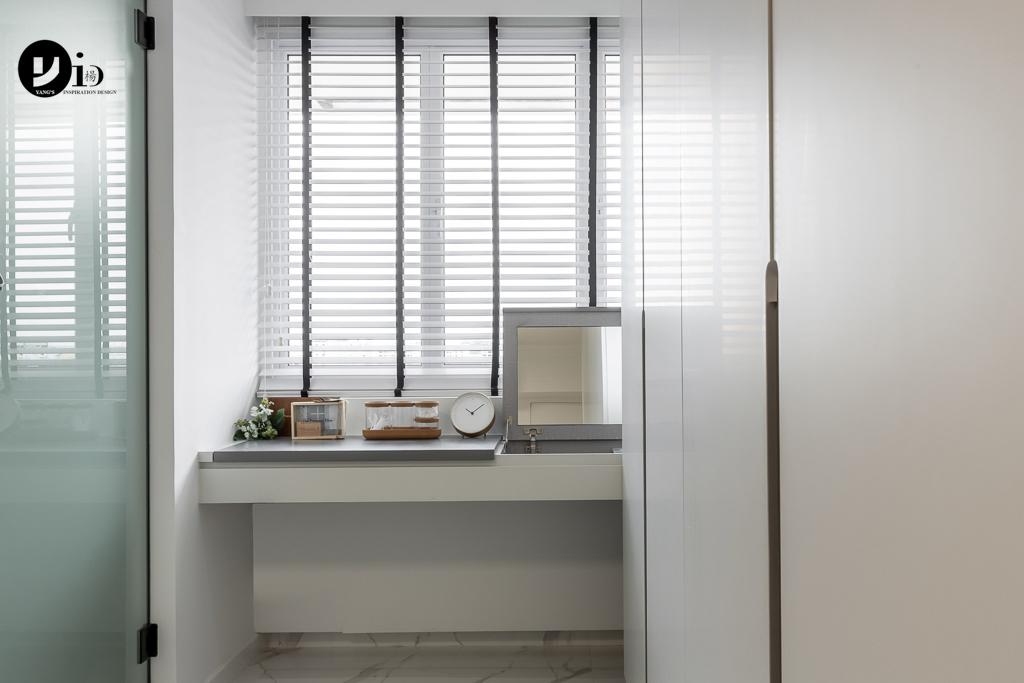 Headboard lighting
A false ceiling with cove lights is often the go-to choice for the bedroom if you are thinking of setting a restful mood as it offers a softer and more comfortable glow compared to the harsh glare of standard lights. But because of the work that goes into creating a false ceiling and the surface area it covers, they can be expensive.
Consider concealing lighting in your headboard design as a more affordable alternative. These typically results in an upwards glow, casting your bed as the focal point of the room and similarly creating that soft, restful and warm glow you want in a bedroom space.
Sleek shower panels
In the bathroom, save some money by opting for slim shower panels instead of a complete shower enclosure. Not only do these panels serve as effective splashguards, but they also come at a more affordable price point. Their sleek profiles add a touch of contemporary style to your space, and they are easier to clean. Plus, they don't get in the way of your arm movements, contributing to a more functional bathroom experience overall.
Shower shelves from leftover tiles
A lot of the bathroom inspiration we get from homeowners tend to feature recessed niches for shampoo bottles. We love how they look too, but what people don't understand is the amount of space it eats up and the extra costs it takes to go for the look. Often, it requires quite a bit of forethought, and may require some additional re-plumbing work. Recessed niches may look like a simple design, but they really aren't.
A more affordable interior design alternative? Shower shelves from leftover tiles. If you overlaid your bathroom tiles, chances are there are some tiles left that can be repurposed into bespoke shower shelves to match the rest of your bathroom design. The best part is that they will still look equally polished!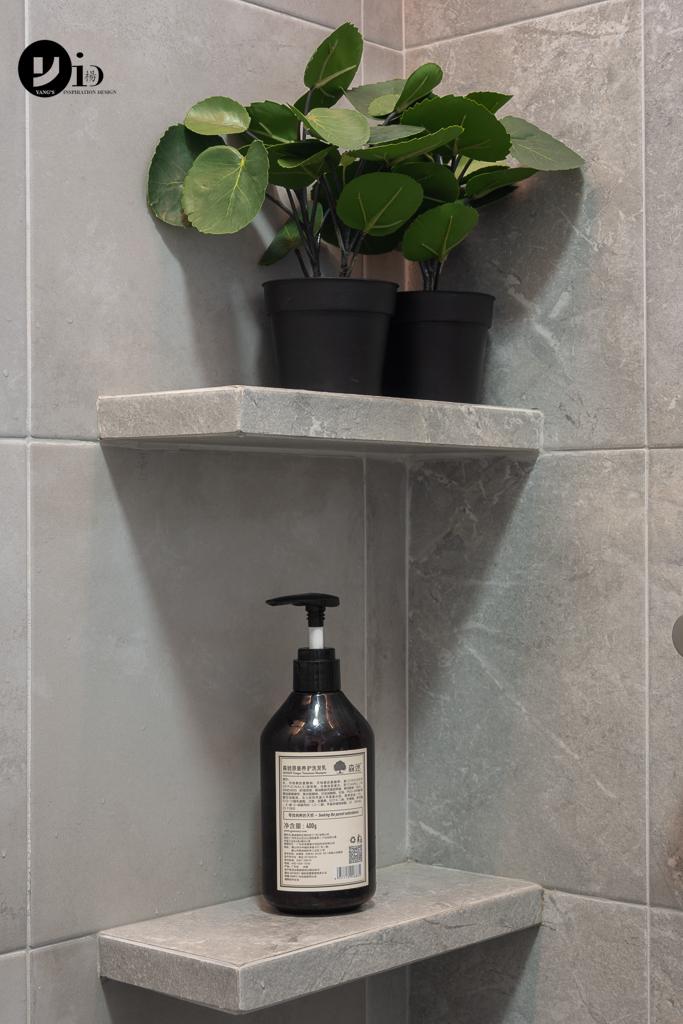 Looking for affordable interior design solutions? Reach out to us through Facebook/Instagram/TikTok, send us an enquiry here or Whatsapp us at 8855 7575.