Oftentimes, when getting interior design inspiration, you may be swept away by the aesthetics of the design without considering the practical implications. This may be fine in a less-utilised room, but in a hardworking, high-traffic zone like the kitchen, it's really in your best interest to think about how to make it easier to maintain. Below, we list our top tips to design an easy-to-maintain kitchen that will make life easier for you.
1. Keep to minimal joint lines for your backsplash
Bukit Batok Ave 5, designed by Ivan
Possibly one of the more industrious surfaces of the kitchen, the backsplash holds all your grease splatters and water splashes. It's really an area of the kitchen you want to make sure that is easy to clean and maintain in the long run.
Tiles are a common material for backsplashes and are easy to maintain, but do pick larger-format ones e.g. with lengths from 1200mm to minimise the grout lines that you need to keep clean. Most grout are porous, so they tend to absorb all kinds of stains, making it more difficult to clean.
Other backsplash materials that are typically full-sheet types with minimal joint lines will also make your kitchen easier to maintain. Glass, in particular, is a favourite among our homeowners.
2. Pick a hardy, durable countertop material that doesn't stain easily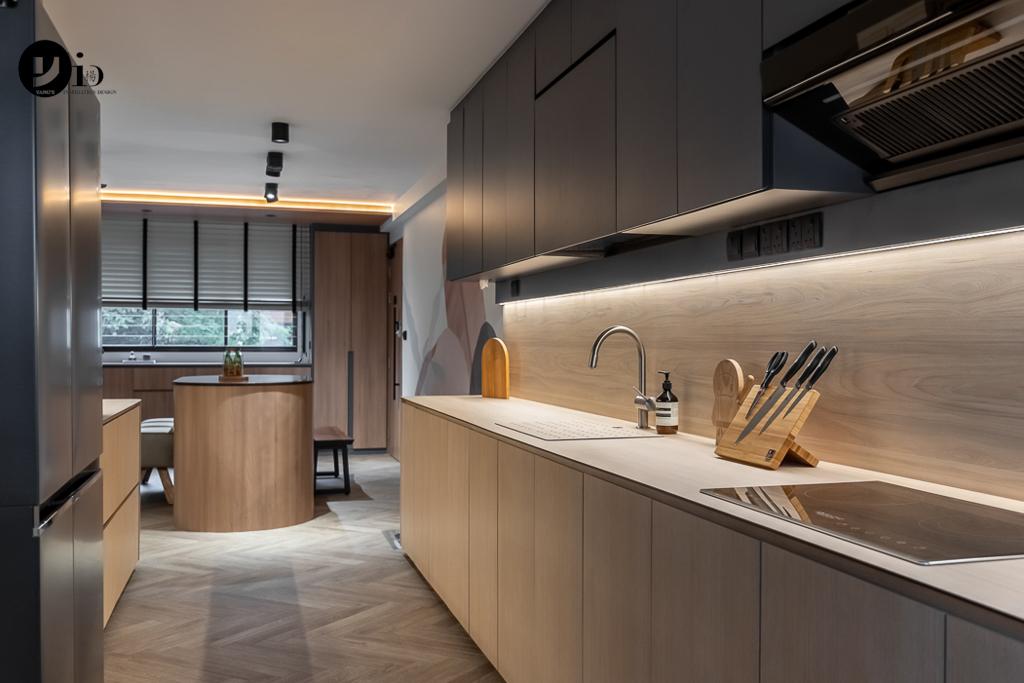 Serangoon Ave 2, designed by Ivan
Another contender in the demanding kitchen surface category, is the countertop. This surface is where you prep meals, set down food and put out serving plates, so it's definitely a must to go for a countertop material that is durable enough to be able to take in most knocks and kinks. It also needs to be relatively stain-resistant that will not have you running for the dish cloth every time you spill your wine.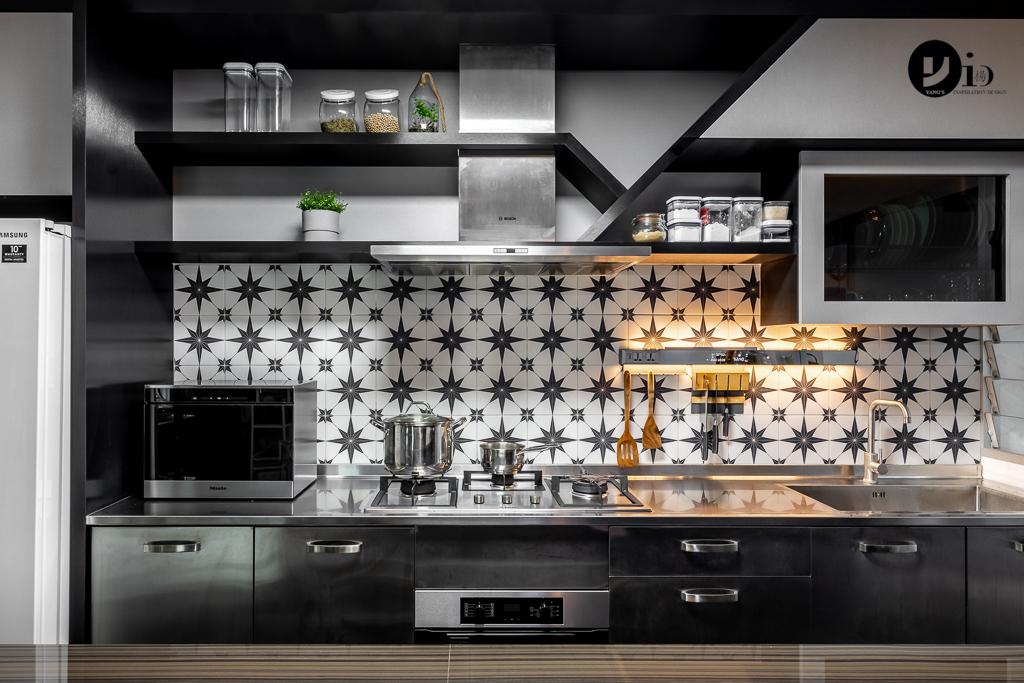 Bukit Batok West, designed by Stephanie
Avoid natural stone like marble and granite which tend to have high porosity and aren't as hardy as their man-made counterparts. Materials like stainless steel, quartz, sintered stone, KompacPlus or EDL Compact on the other hand are also great choices as they are engineered to be resistant to most impact and stains.
3. Select a forgiving colour scheme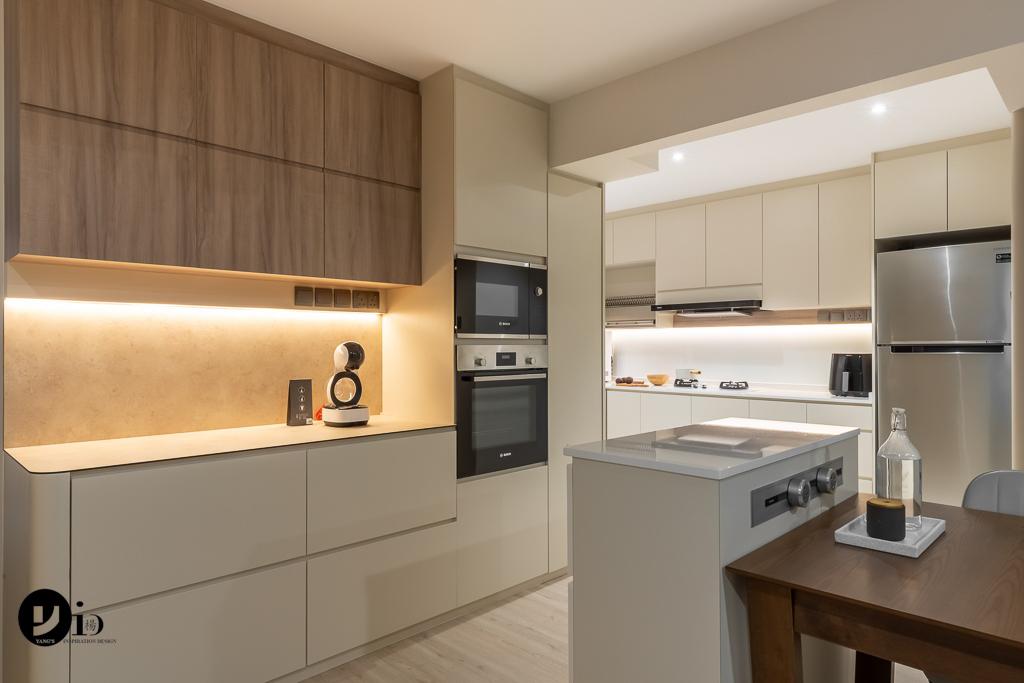 Segar Road, designed by Jason
An all-white scheme may be a timeless classic for kitchens but they don't really bode well for maintenance. All-white kitchens generally require more effort to keep it looking fresh and pristine. And if you are using materials like white laminates or white quartz, they can turn yellow over time when exposed to direct sunlight because of their resin content.
Rather than go for all-white, choose beiges, taupes or greys if you want a lighter and neutral colour scheme. These are easier to upkeep and can better conceal marks and mistakes compared to pure white surfaces.
4. Plan for enough storage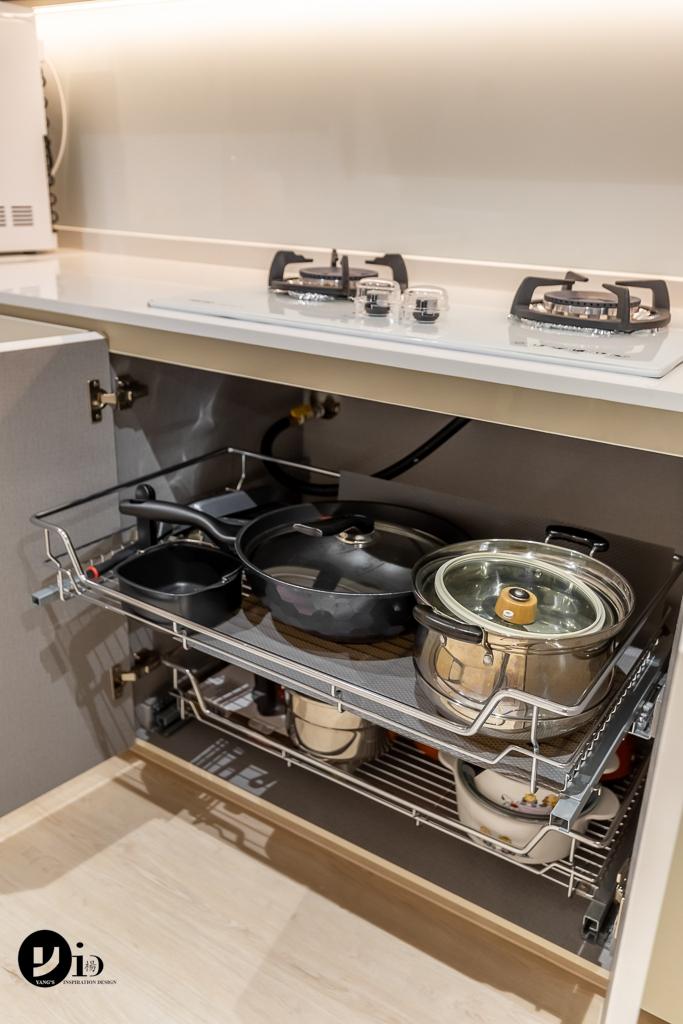 Segar Road, designed by Jason
Rein in countertop and kitchen clutter with enough and properly planned storage. Rather than stick to the standard cupboards and drawers, ask us for dedicated compartments that will help organise your kitchen things better.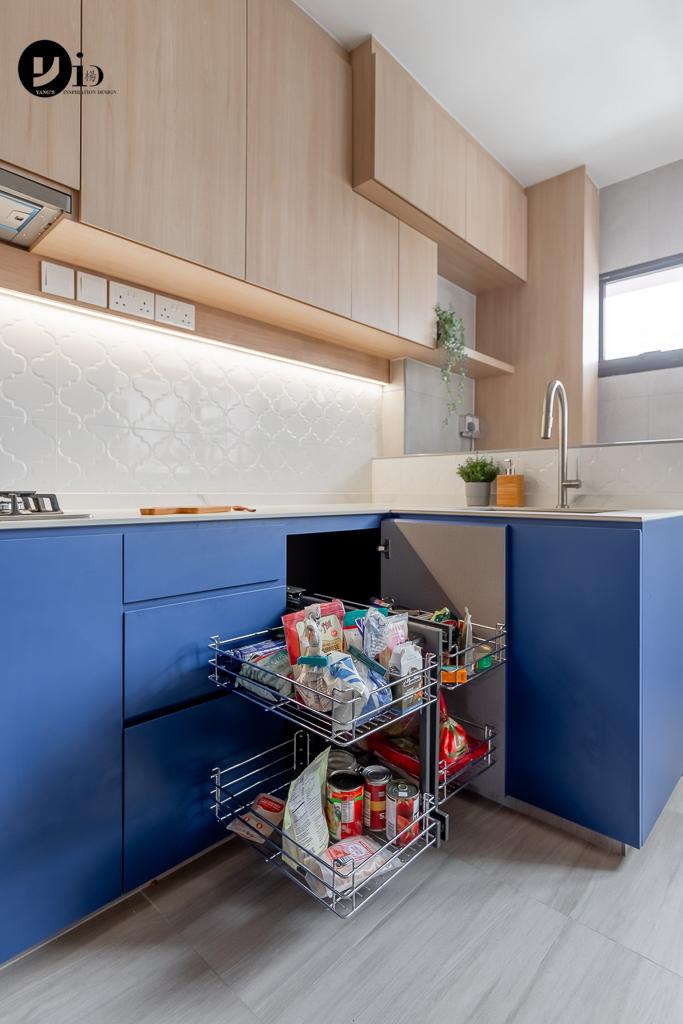 Jalan Tenteram, designed by Steven
Depending on your lifestyle and needs, consider going with pull-out racks for condiments and spices, deeper drawers for heavier pots and pans, cutlery trays, and pantries to store dry produce and breakfast staples. Some will definitely add to the cost of your kitchen renovation because our carpenters have to do extra work, but that stellar organisation you'll get as a result? Totally worth every penny.
5. Limit open shelves
Tampines St 21, designed by Abby
Open shelves are certainly striking and they seem to be in every Pinterest-, Instagram-worthy home, but it may not be for you, particularly if you are the sort that don't tend to keep to a strict cleaning schedule. They are hot spots for accumulating all sorts of dust, grease and grime, and they are not the easiest to clean since you will need to take down everything on the shelves before putting them back up again.
Prefer any easy-to-maintain kitchen? Limit open shelves to a small part of the kitchen. Alternatively, stick to upper cabinets that go all the way to the ceiling.
6. Consider an appliance garage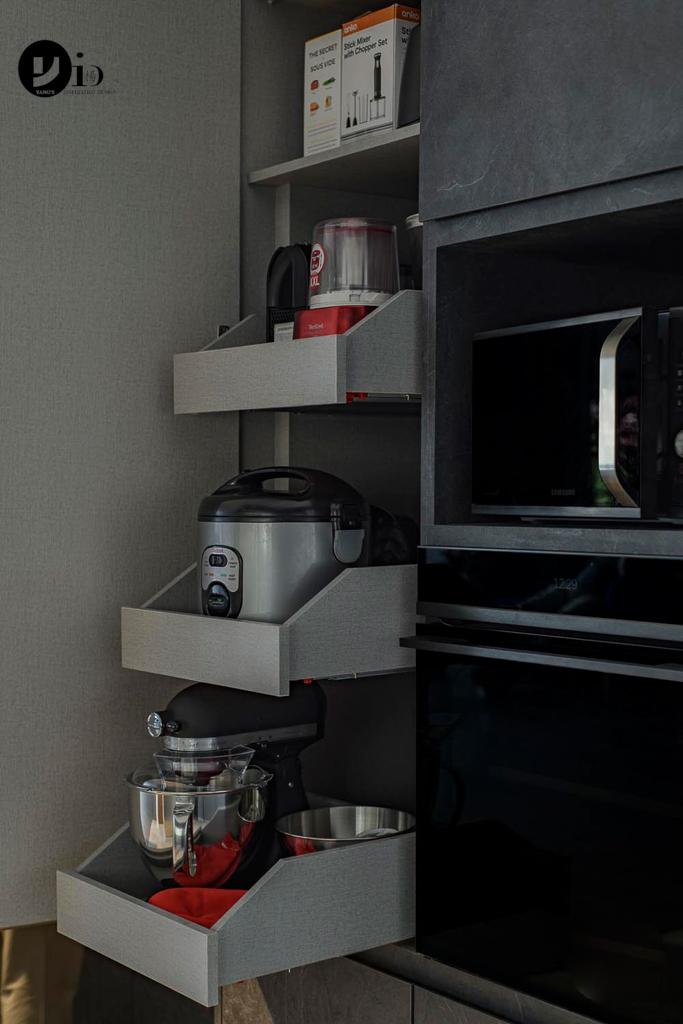 Tampines St 72, designed by Ewan
We would recommend stowing away most appliances inside cabinets to keep countertops free and to prevent sticky residue from forming on appliances. For appliances that you will need to reach out for on a daily or regular basis however, consider getting an appliance garage—a (preferably closed) compartment for housing your appliances—that sits on countertops.
Incorporate electrical outlets within the appliance garage so that that way, you can conveniently use your gadgets without have to lug them in and out of the garage.
7. Decide on smooth-front cabinet doors and 'handle-less'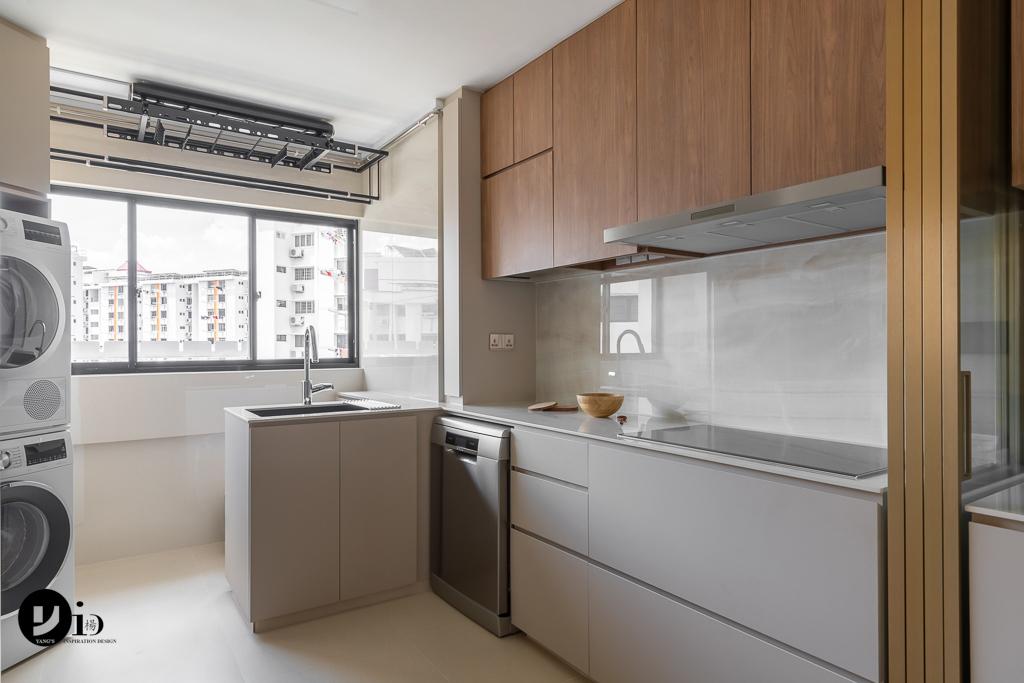 Serangoon Ave 2, designed by Cindy
Flat-front cabinets are a lot easier to wipe down after cooking, since they won't have raised panels or ornate details that you will have to pay particular attention to. So yes, while that shaker style cabinet is delicious to look at, you may want to opt for a simple, minimalist design for easy maintenance.
When picking out laminates, avoid ones that have deep grooves. Some wood-effect laminates for example, in a bid to look like the real deal, tend to mimic the grains found on real wood beyond just the surface. These grooves are dust and grime traps and will make your cabinets a nightmare to clean.
In the same way, 'handle-less' cabinets will take less effort to wipe down since you won't need to go around the knobs or pulls. With handles, there's a chance they may actually come loose or even fall off years down the road. How quick that happens depends on your usage.
8. Go for fingerprint-resistant laminate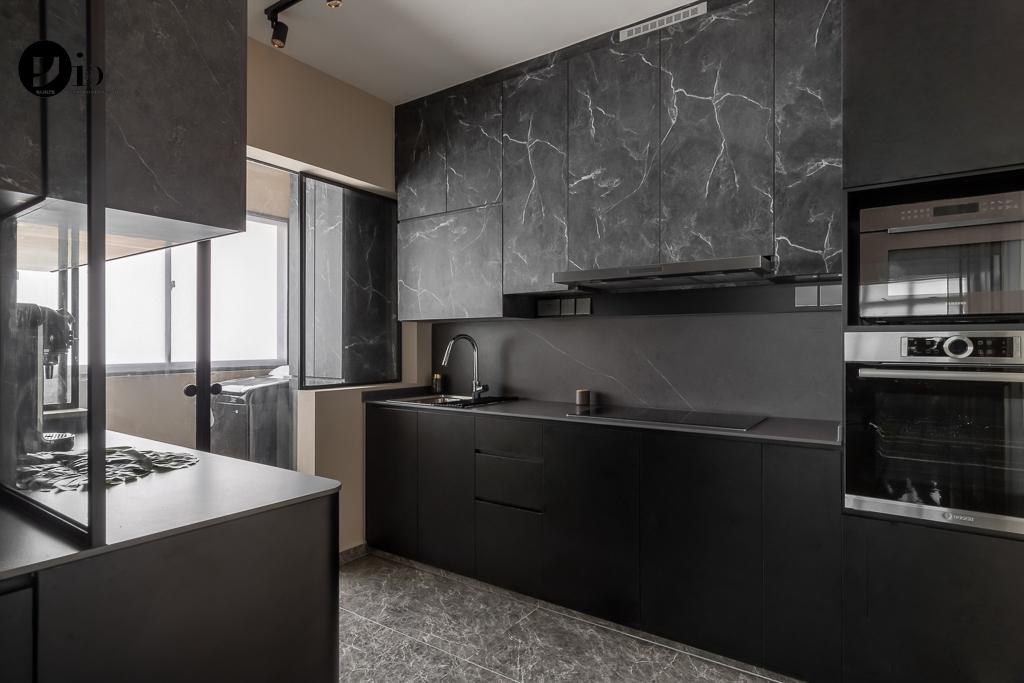 Upper Serangoon Rd, designed by Jason
Whether your laminated cabinets have a glossy or matte finish, fingerprints can build up over time on the surface especially in high-usage areas, giving them an unappealing appearance if you don't keep on top of the cleaning.
Enter fingerprint-resistant laminates, which are specially designed to reduce streaks and smudges on your cabinet surface. Some laminate brands in Singapore that carry products with these properties include Admira (check out their Traceless series), Panaplast and Greenlam (AFX).
9. Choose an induction hob and invest in a strong hood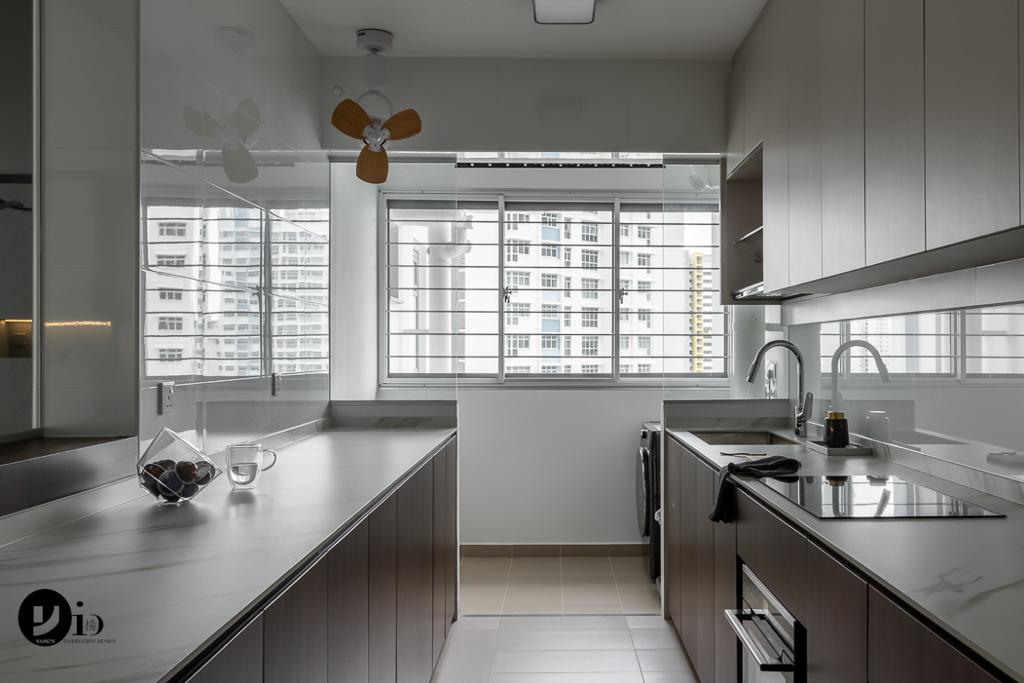 Northshore Cres, designed by Danny
Choosing a gas or an induction hob really depends on your preference as there are pros and cons to each. But since we are on the topic of easy maintenance, the induction hob gets our vote. Unlike with a gas stove that comes with crevices and knobs that jut out, burner rings or other accessories that need to be taken out to clean, the sleek, flat and glass surface of an induction hob just needs a simple wipe down after every cooking session.
If you do a lot of cooking, make sure you also invest in a kitchen hood with strong suction power (get one that measures over 600 m³/hr if you want more power). You also want to make sure it has a similar width to your stove so that it can efficiently suck in all the fumes. Finally, ensure that it is easy to clean and change out the filters.
10. Opt for an integrated or under-mount sink and a pull-down or pull-out kitchen faucet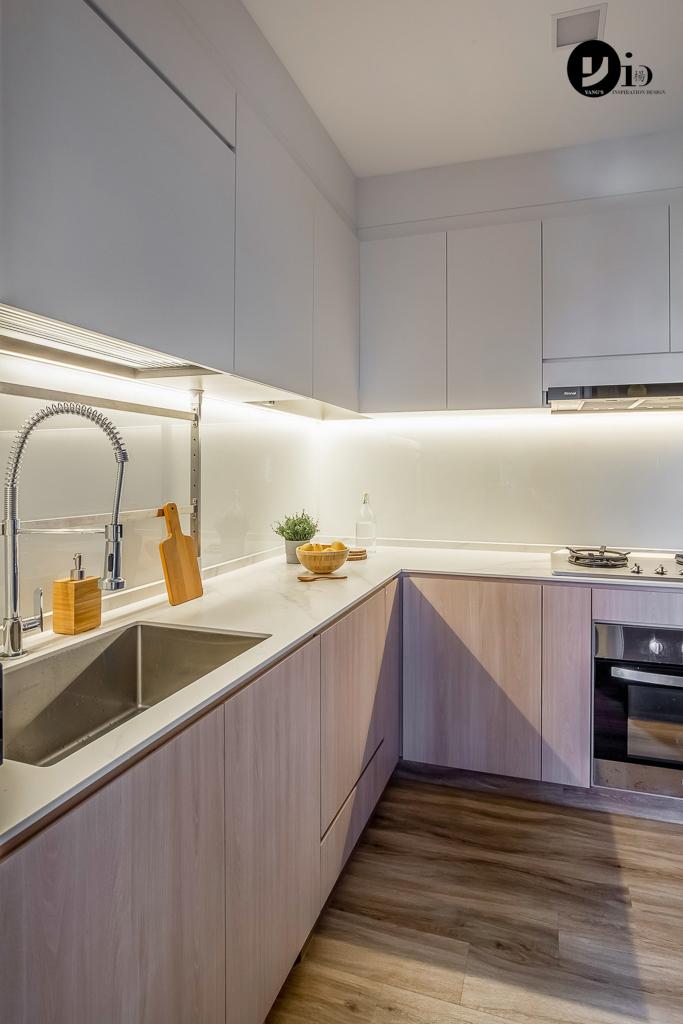 Punggol Field Walk, designed by Abby
An integrated sink is fused together with your countertop, forming a single piece and is typically built using the same material. What this means is that there is a continuous flow from countertop to sink as there aren't any joint lines or seams to trap food residue. This makes cleanup a walk in the park.
Integrated sinks can be on the pricey side though and they tend to be a pain to change since you will need to swap out your whole countertop if you want to change your sink. Most of our homeowners who want easy maintenance tend to go for under-mount sinks instead. They come in a variety of materials and are installed under the countertop, allowing you to sweep food scraps into the basin.
When choosing kitchen faucets, opt for ones that have an extendable spout to allow you to either pull down or pull out. This sort of faucet not only allows you to reach to the furthest corner of your sink, it can also make dishwashing by hand a much more convenient process.
11. Select appliances with self-cleaning functions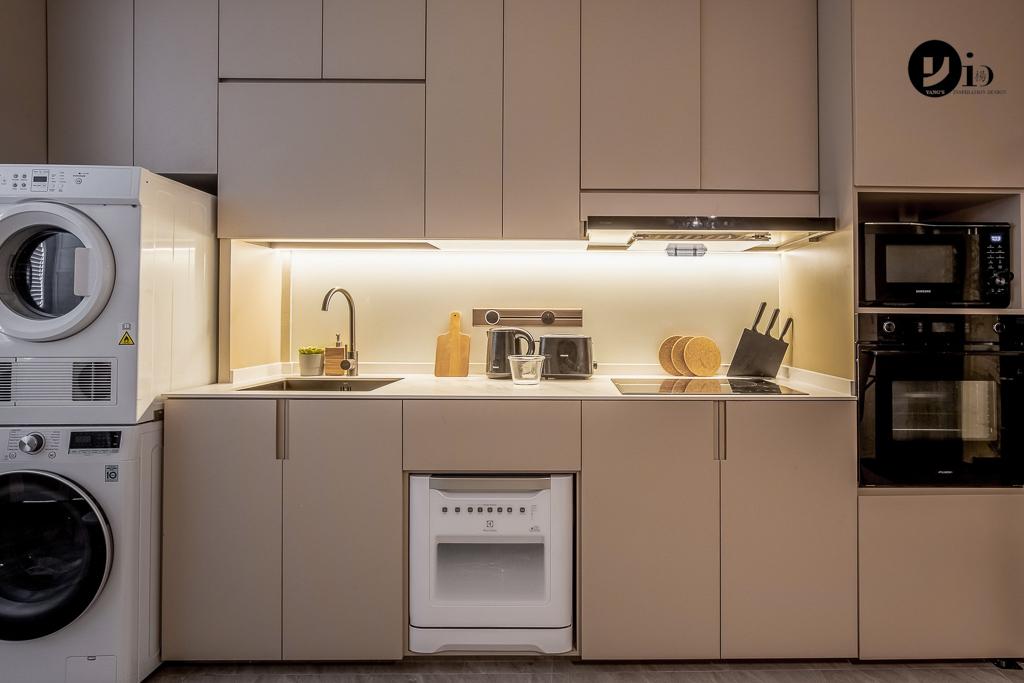 Jurong East Ave 1, designed by Abby
Thanks to advances in technology, we now have a wide range of kitchen appliances that come with self-cleaning capabilities. From dishwashers and microwaves to ovens and coffee makers, these appliances can greatly reduce the effort required to keep them clean and are better for the appliance in the long run. Cleaner appliances = appliances that can work more efficiently.
One great option is the self-cleaning pyrolytic oven, which allows you to run the oven at a high temperature to incinerate any food spills or grease that may have accumulated during cooking. This turns the leftovers into ash, making it a breeze to clean up after the self-cleaning cycle.
12. Conceal electrical outlets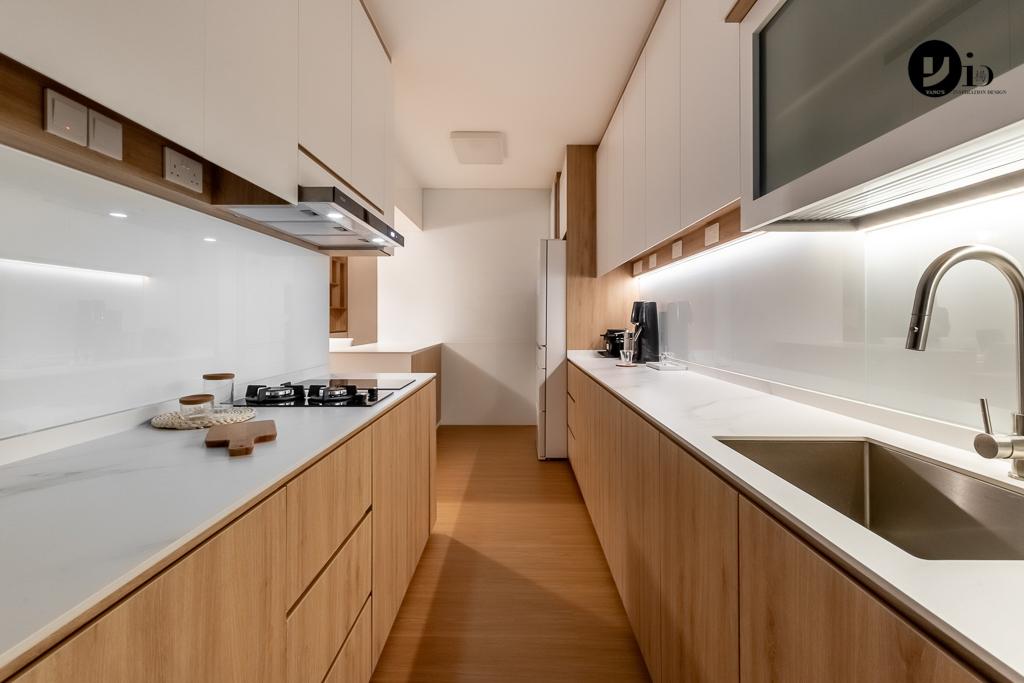 Punggol Walk, designed by David
Here's a bonus tip for you! If you don't want to be constantly wiping down sticky and greasy electrical outlets, why not hide them at the base of your cabinets? This way, they stay out of sight while still being easily accessible. It's also a great way to achieve a sleek and modern look in your kitchen, especially if your outlet covers are on the plain side.
Looking to get practical help for your kitchen reno from a reliable interior design firm? Whether it's for an HDB renovation or you are looking to revamp your condominium, we can help! Reach out to us through Facebook/Instagram, send us an enquiry here or Whatsapp us at 8855 7575.