A well-designed living room should cater to all your needs, whether it's unwinding with your loved ones, catching up on your favourite TV series or hosting get-togethers with friends. To truly maximise its potential and functionality, consider incorporating storage. Built-in ones in particular can help to fuse together aesthetics and practicality, blending in with the overall look and feel of your living space. We curated some exceptional ideas that are sure to impress:
1. Open compartments
The storage here comprises open compartments, which cover the entire span of the living room wall. This allows you to see where everything is at once and helps you keep clutter in check since you are less likely to store anything unnecessary. The key to preventing a clutter fest is to store like with like and keep the rest of your decor in the living room simple.
Bedok Reservoir Rd, designed by David
2. Full-height bookcase
In this modern farmhouse apartment, the full-height storage piece behind the living room sofa adopts a traditional tone blending shaker-style cabinets with cubbies that function as bookcases and display shelves.
Tampines St 86, designed by Ewan
3. Concealed storage
If you prefer not to have your living room storage stand out, consider hiding it in plain sight. This living room's feature wall actually hides a shoe cabinet. Thanks to the cabinet's discreet door lines, you can't even tell where it is when the doors are closed.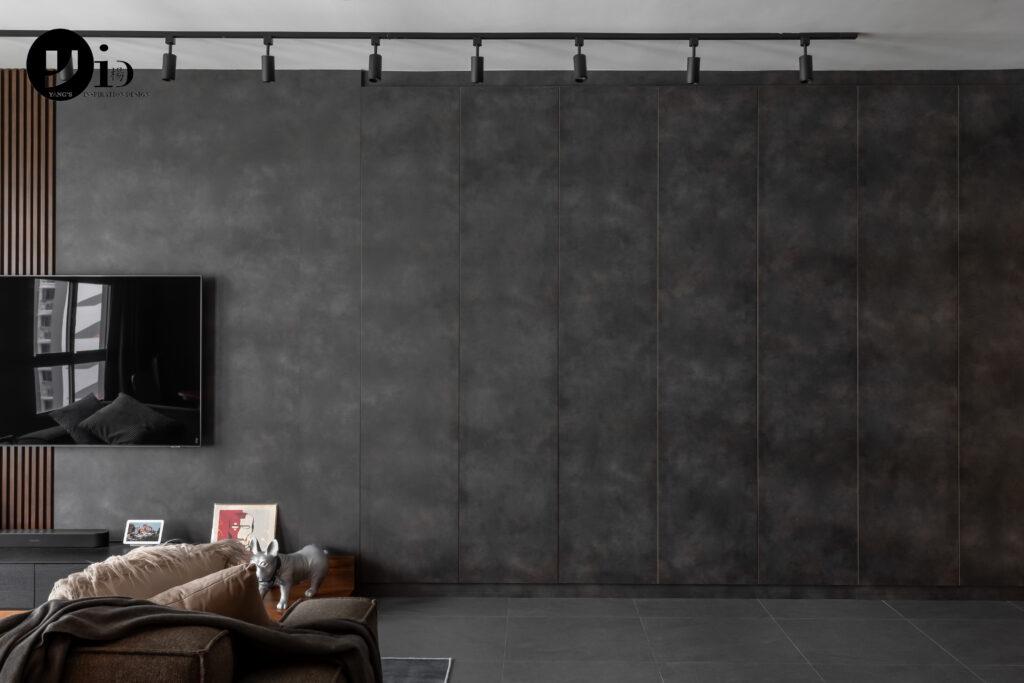 Tampines St 61, designed by Abby
4. Window settee
Like a bit of lounging in the living room? A built-in window settee provides a comfortable place to sit and a prime location next to the window where you can bask in the natural light and scenic views (if you're lucky enough to have them!). And the icing on the cake? The settee can also be used as extra storage.
Northshore Dr, designed by Randall
5. Recessed wall niche
With the living room and dining room sharing one space, an arched recessed niche helps to define where the dining area is. It's also a great spot for displaying decor and faux plants. The wood shelves add a hint of warmth and texture to the clean-cut living room design.
Upper Serangoon Rd, designed by Steven
6. Storage wall
For ample storage space, this built-in solution might pique your interest. It features honey-toned wood laminates that exude a minimalist, Muji-style vibe when coupled with grey and white furnishings. The cupboards go all the way across the living room wall and have a section that's perfectly shaped to fit the TV.
Tampines St 85, designed by Sky
7. Decor panel
The woodgrain fluted panel beside the TV serves a dual purpose as a stylish decor element in the living room and a functional storage solution for the apartment. Its textured appearance adds visual dimension to this communal zone, while its spacious compartment provides ample storage space.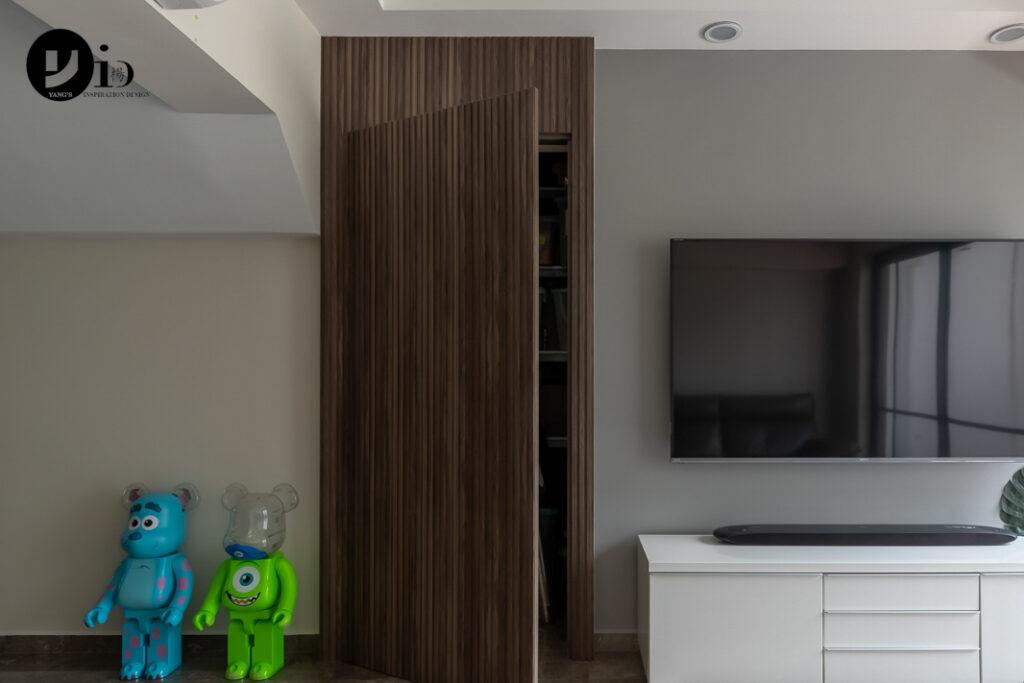 Toa Payoh Lor 1, designed by Jason
8. Floating cabinet
Floating cabinets are ideal for compact living rooms as they have a more streamlined appearance and feel, which eliminates the bulky construction that can weigh a room down. What we like about this floating cabinet here is that it's also entwined with a set of full-height cupboards, so you still have plenty of storage space without the visual heft. And having both storage solutions in a contrasting wood tone just makes things more interesting overall.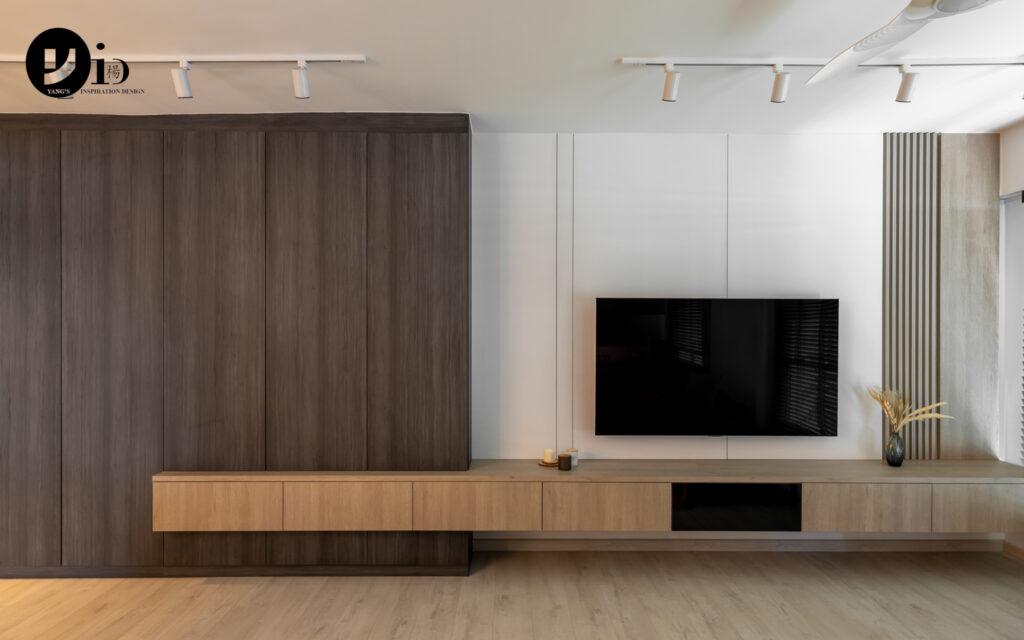 Punggol Drive, designed by Ivan
9. Display cabinets
Blending style and substance, this built-in storage is designed with glass cabinets perfect for displaying a collection. Rather than going with one standard size for the compartments, the size variation feels more dynamic and aids organisation. The storage solution's statement status is elevated even further with the addition of concealed LED lights.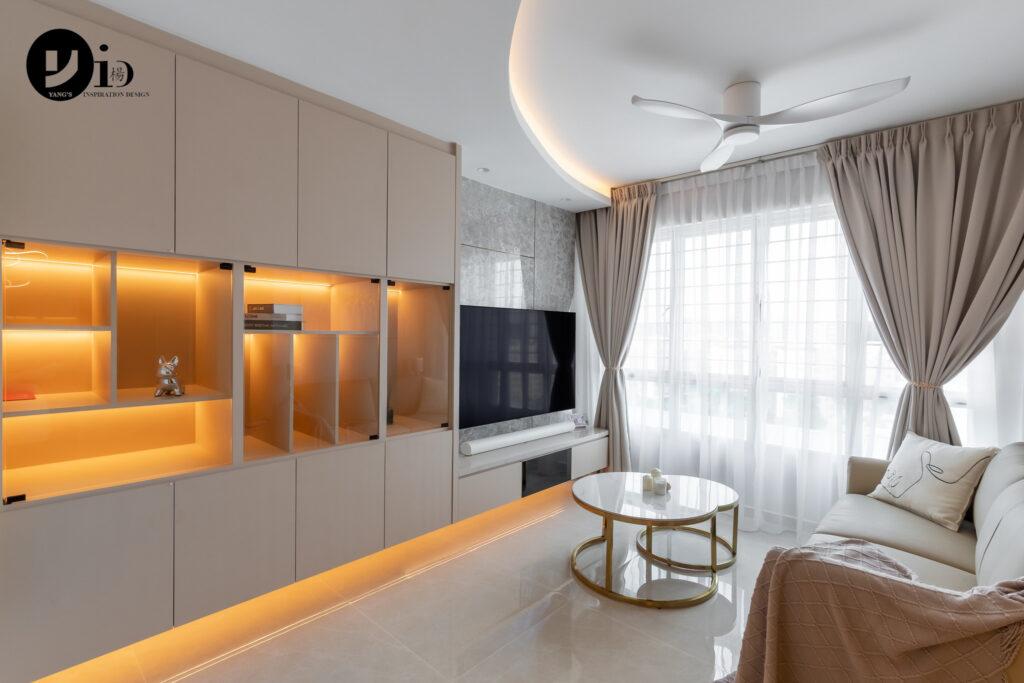 Jalan Satu, designed by Cindy
10. Dining bench extension
Taking full advantage of the dining area's location next to the living room, our designer combined the dining bench with the TV console by having it in a singular structure and straddling both areas. This is a good way to lengthen the sense of space and can also double up on seating and storage room.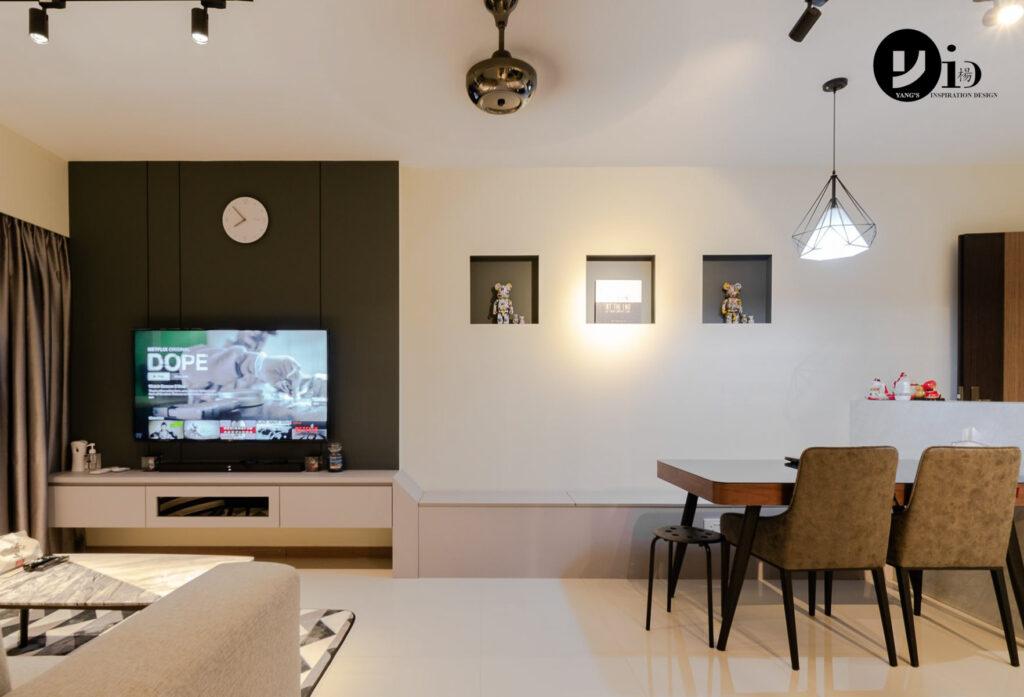 Bukit Batok West Ave 6, designed by Ivan
11. Under-window storage
The flat's living room had an unused recessed niche under the window, but it was cleverly transformed with a functional storage unit. We particularly love its two-part design that brilliantly maximises the space's potential. The waist-high drawers make up one segment, but there's also a seating area with storage compartments underneath.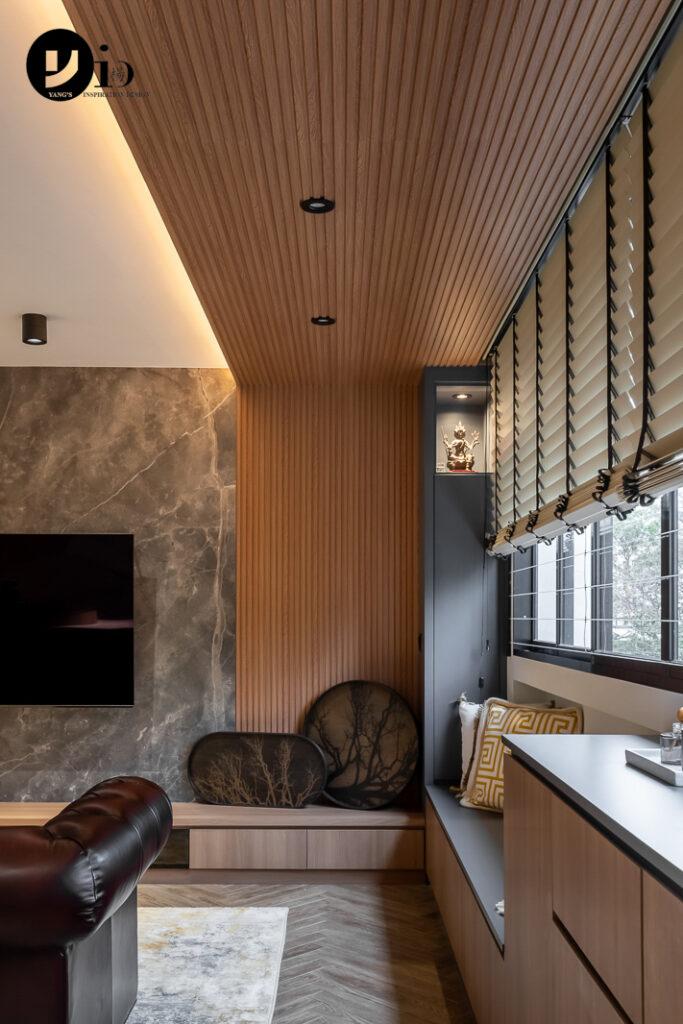 Serangoon Ave 2, designed by Ivan
12. Multi segments
This living room is equipped with a versatile built-in storage system. It comprises various components, including cubbies, a full shelf, a floating console, closed cupboards and a window storage bench—it's got everything! The curved edges add a cosy touch and help balance out the blocky look of the room.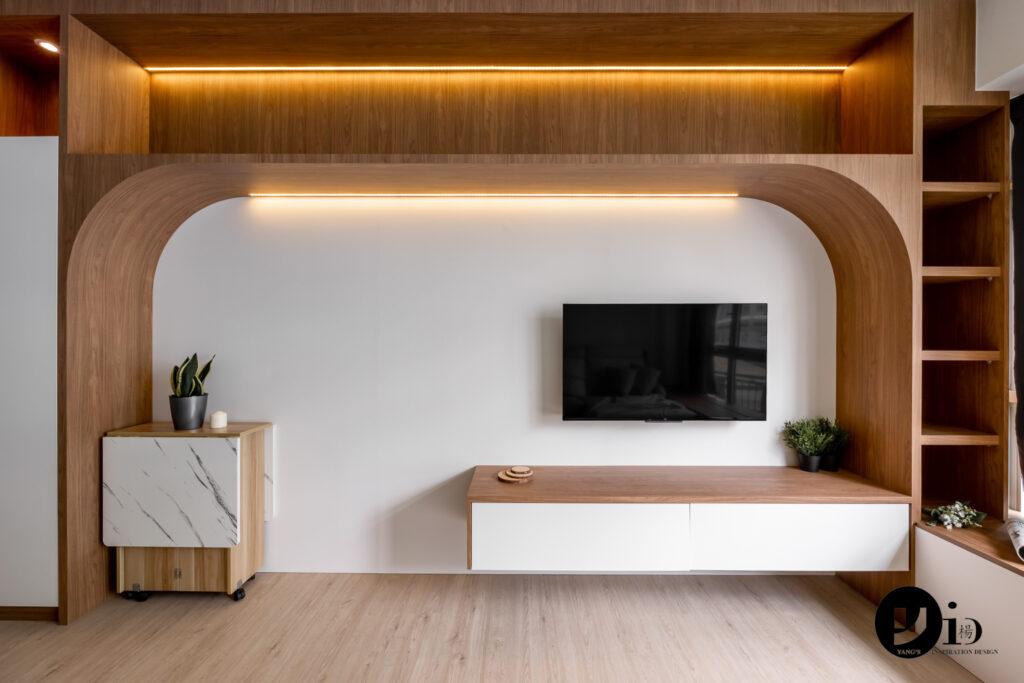 Compassvale Ln, designed by Ivan
Need brilliant storage solutions like these ones for your own home? Reach out to us through Facebook/Instagram, send us an enquiry here or WhatsApp us at 8855 7575.