If you've ever been lucky enough to indulge in a spa day, then you know the feeling of wanting to recreate that same relaxation and luxury in the comfort of your own home. I mean, who wouldn't want to feel like royalty in their own bathroom? Luckily, achieving a spa-like atmosphere is totally doable, especially with our expert tips! These design details will go a long way to help you create the ultimate zen space.
1. Tone-on-tone colours
When considering the colours to utilise, aim for a tranquil palette. Using a tone-on-tone approach by using one colour and then having it in varying tones can convey a sense of calmness. Avoid the space from feeling too bland by playing up different textures and finishes.
In terms of what colour to choose, we like taking cues from the great outdoors such as blues, greens and cream and sandy tones. Avoid overly bright shades and keep away from clinical whites. Instead, think of softer, pastel and earthy tones. Dark colours can also be surprisingly relaxing.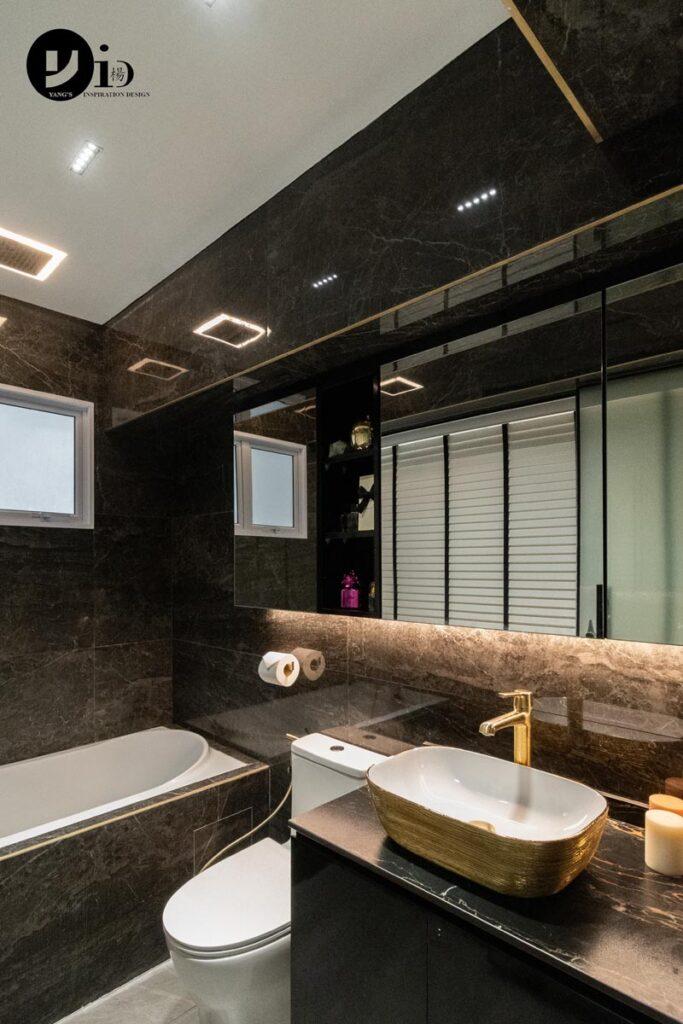 2. Nature-inspired textures
Take inspiration from nature and add some wood elements to create a warm and inviting bathroom retreat. Since it's a damp environment, you can opt for wood substitutes that won't get damaged or develop mould. If you're looking for a more rugged and edgy vibe, try natural stone or terracotta surfaces to give your bathroom the feel of an outdoor spa.
Additionally, consider incorporating plants into your design scheme. They add a gorgeous splash of green and bring in an array of textures through their unique leaf designs. To ensure they thrive, make sure to plan for ledges near windows so that they get to receive natural light. If you're not confident in your plant care abilities, you can still achieve a similar effect by incorporating subtle biophilic patterns or floral prints into your decor.
3. Maintenance and safety
When it comes to designing high-traffic areas like the bathroom, it's crucial to prioritise maintenance and safety. Nobody wants to spend hours cleaning, and an unsafe bathroom can induce the opposite of relaxation.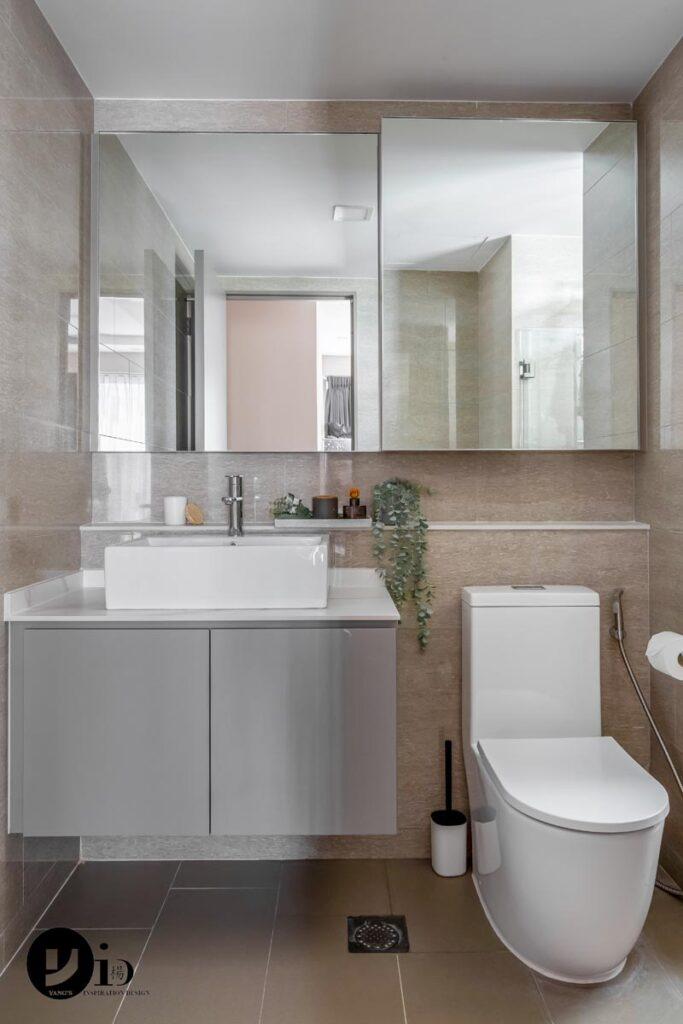 Key tips for an easy-to-maintain and safe bathroom:
As it's a wet zone, make sure your floor tiles aren't slippery (at least an R10 non-slip rating). You don't want to get ones that are too rough though as those may be tough to scrub clean.
Frameless shower screens will make it easier to wipe down after a shower, and they are infinitely more luxe. If you don't want to have too many glass surfaces to clean, you can always go for a half-wall divider.
It's best to opt for a shower screen made of either tempered glass or laminated glass. Tempered glass breaks into small pieces with rounded edges, minimising the risk of cuts. Laminated glass is made up of two pieces of glass held together by a layer of plastic, so even if one piece shatters, the other will hold it in place and prevent injuries.
Choose wall-hung toilets that have fewer nooks and crannies, along with vanity cabinets that are suspended and won't get damaged by your bathroom floor cleaning routine.
4. Bathtub or rain shower
There's nothing quite like sinking into a luxurious bathtub for hours on end, glass of bubbly in hand. While freestanding tubs definitely exude a sense of opulence, they can also take up quite a bit of space—so for those with smaller homes, we recommend checking out drop-in tubs that fit snugly into a precast concrete frame. Bonus: not only do these tubs give your bathroom a sleek, modern look but their sides can also be tiled to seamlessly blend in with the rest of the space.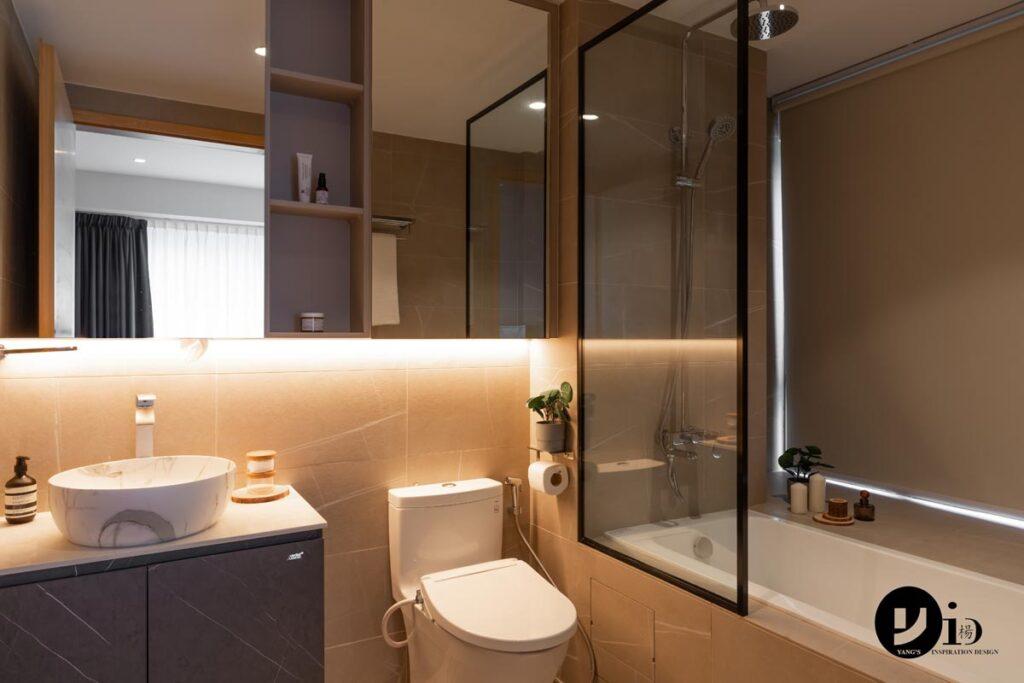 If you prefer showering to soaking, then consider getting a rain showerhead for the ultimate pampering session. Unlike conventional showerheads, rain showers come with a larger surface area and they often emit gentle, large water droplets that offer maximum coverage while still being really gentle on your skin. Plus, they tend to look super high-end so you will have that luxury spa look down pat.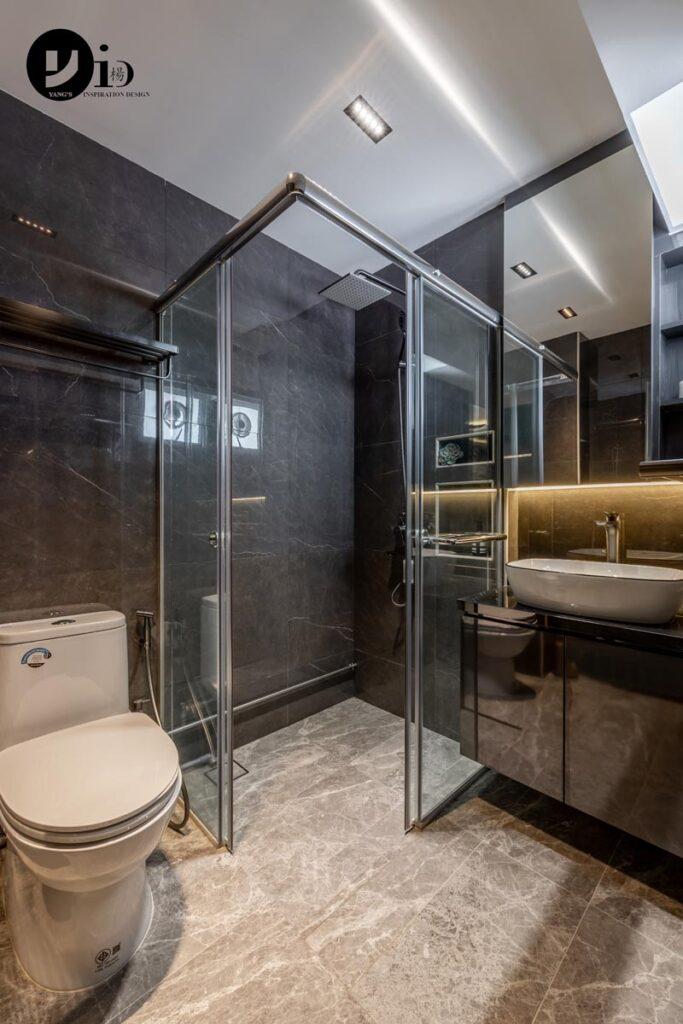 For a more indulgent shower experience with a larger rain shower, it's important to opt for a storage water heater tank with a larger capacity to accommodate it.
5. Large expanse of mirror
Small space dwellers, you know this one. Mirrors are great for expanding a sense of space so your spa-like bathroom will look even roomier and therefore more indulgent. But they also have the added advantage of giving some sheen for that upscale, sophisticated look.
For the ultimate luxury, you don't have to stick to the size of your sink when choosing a mirror. Run the mirror wall to wall and all the way to the ceiling for a full-on look that will double the size of your bathroom.
6. Enough storage
When it comes to achieving a calming atmosphere in your bathroom, the key is to eliminate clutter. But what do you do with all your essential items? The answer lies in having well-thought-out storage solutions. Closed cabinets are a great option for discreetly stashing extra shampoo bottles and other bathroom necessities, while drawers or built-in shelves within the cabinets can help you stay organised.
If you're looking to add some style, open shelves are perfect for displaying decorative accents that will elevate the spa-like ambience. Treat yourself to accessories that will make your bathroom smell good: scented candles, diffusers, potpourri and plants. And fold plush hand towels by the side to complete the look.
7. Even lighting
Having the right lighting can create the perfect relaxing atmosphere in your bathroom. To achieve this, it's important to layer your lighting by using different fixtures for different functions.
Start with ambient lighting which should be evenly placed to provide an overall glow. Installing dimmers will allow you to adjust the lighting to create a calming environment whenever you need it.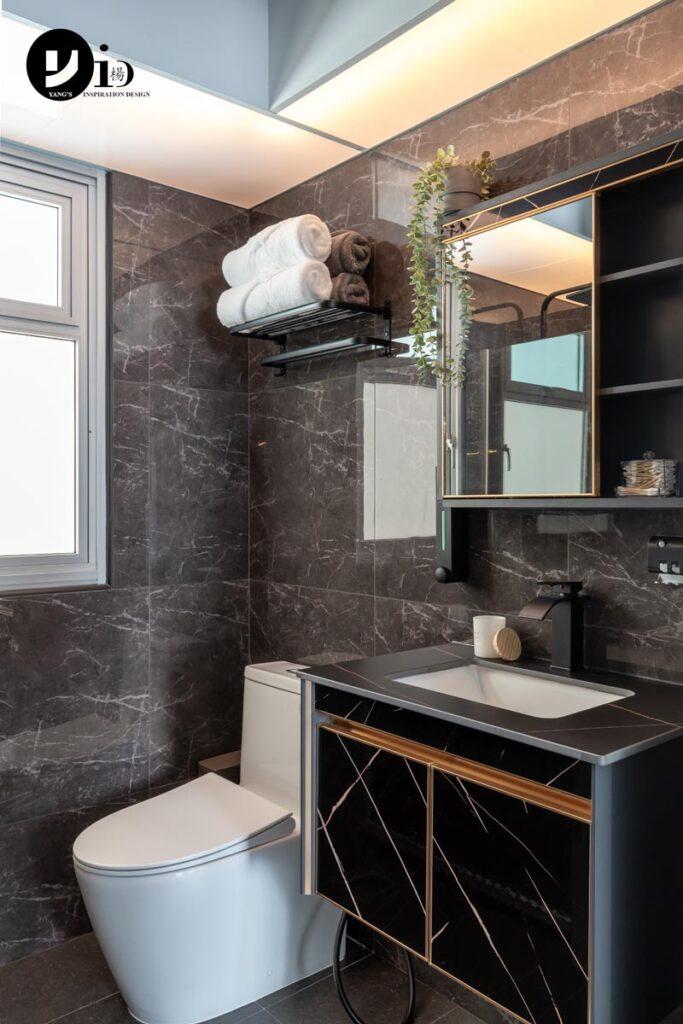 Task lighting is also essential, especially by the mirror and vanity. Sconces at eye level or hidden lights behind the mirror will give you even lighting without casting shadows on your face. Under-cabinet lights can also add an extra touch of ambience.
For the perfect shade of light, we recommend warm white bulbs, which are gentle and ideal for your daily bathroom routines.
8. Metallics and similarly luxurious materials
If you're going for a spa-like bathroom with a touch of luxury, it's all about the materials you choose. Instead of going for the typical chrome fixtures, consider opting for gold or brass for that classic, old-world look.
While natural stones like marble, granite or travertine are a surefire way to create a luxurious finish, they can come at quite the cost and be a little high maintenance for a bathroom setting. If you want to get the look without all the fuss, consider opting for stone-effect materials.
9. Concealed bathroom pipes
Nothing ruins the calm of a bathroom like exposed pipes. Concealing them keeps the space clean and clutter-free. The most straightforward approach is to build carpentry around the pipes, which can also serve as storage space.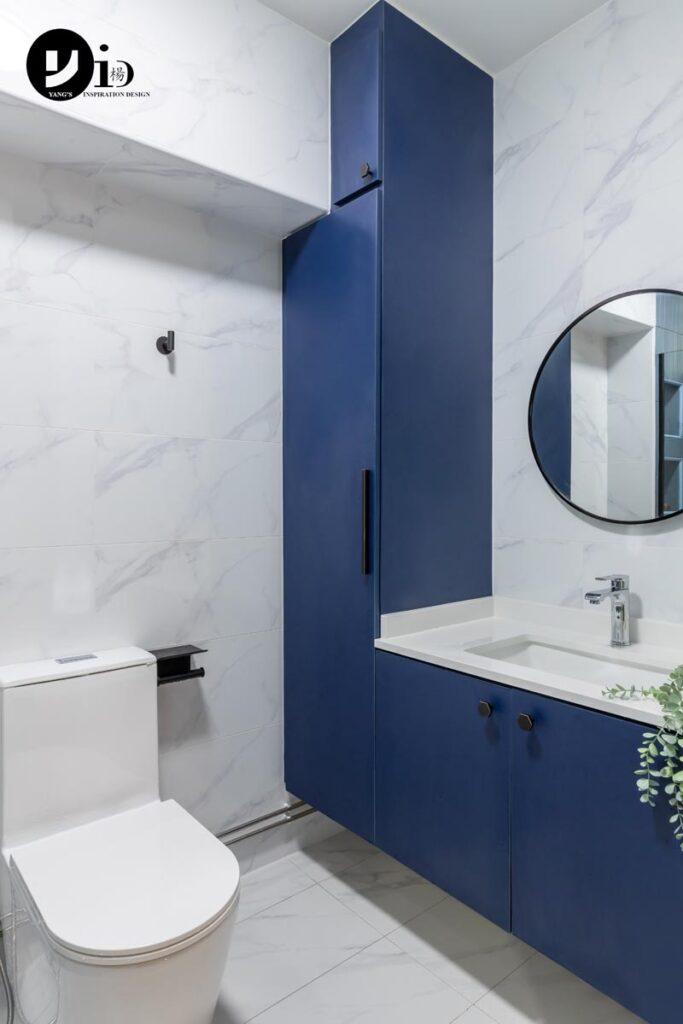 Alternatively, if you don't want too many bulky structures taking up room, you could paint the pipes with a fancy colour to make them a standout feature of your bathroom, or simply blend them into the background by matching their colour to the surrounding surfaces.
Spa day, every day? Totally possible if you rope our team of interior design experts in to help. Reach out to us through Facebook/Instagram, send us an enquiry here or WhatsApp us at 8855 7575.