Considering a walk-in wardrobe? Wondering if an open concept layout would work for you? Curious about the latest arch trend? In this article, we explore some of these popular HDB interior design features that we've created for our clients. Take a look at their pros and cons before deciding if they are the right fit for you.
1. Open Concept
Pros
When paired with a light, neutral scheme, open-plan layouts often feel bright and airy.
A good choice for smaller homes, since an absence of walls and dividers can result in a bigger sense of space.
Allows you to stay connected with everyone in the home, which is great if you want to watch over your children while you are busy in another area of the home e.g. the kitchen or the home office.
Can create multipurpose spaces e.g. combining your home office in the living room.
If you host larger groups often, the open concept can make gatherings and dinner parties feel less cramped and stifled, encouraging mingling.
Cons
May be difficult to arrange furniture and plan for built-ins because it's so open-ended. This lack of a clear division may mean you'll have to end up investing in other furnishings to visually anchor an area e.g. an area rug so that your furniture doesn't look like it's 'floating'.
You may also end up having to get larger pieces of furniture just so that they don't appear too small in the home.
Can actually end up looking messy as there's no place for you to hide mess and clutter.
Not having walls will mean you can't block off smells, grease or noise when you need to. A crucial point to consider if you tend to cook often or if you have young children at home and need to work from home on occasion.
2. Kitchen Island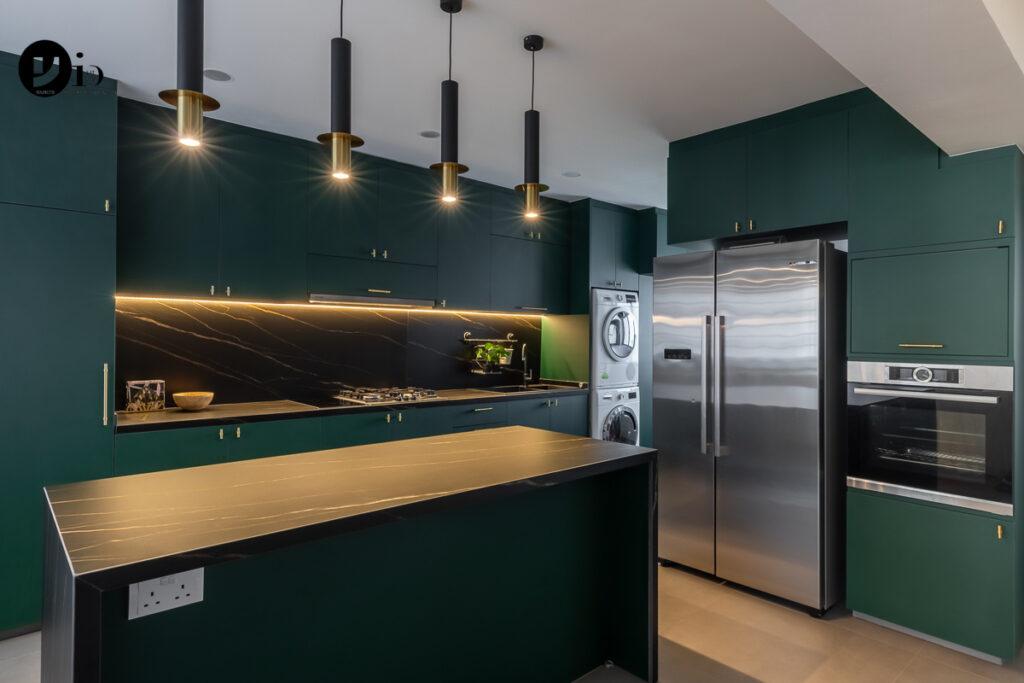 Pros
More countertop space = more prep space! You can also get more storage and seating with a kitchen island.
A kitchen island can also create a more efficient kitchen layout. For instance, it can serve as landing space for setting down hot food or it can be an area for you to set down groceries.
A kitchen island is a great interior design feature since it's so versatile and multipurpose. You can turn it into an entertaining zone, double it up as a dining area, or even use it as a workstation.
Cons
A decently sized one takes up quite a bit of room physically and visually, so you'll have to make sure you can afford the space. It can overwhelm a small kitchen and can create traffic congestion if you insist on putting an island in a small cooking space.
Adds to your kitchen renovation costs. It will also cost more if you decide to include storage and other accessories like power outlets. It will also add to plumbing or re-wiring costs if you decide to include a sink or have the island as the main cooking station.
3. Walk-in Wardrobe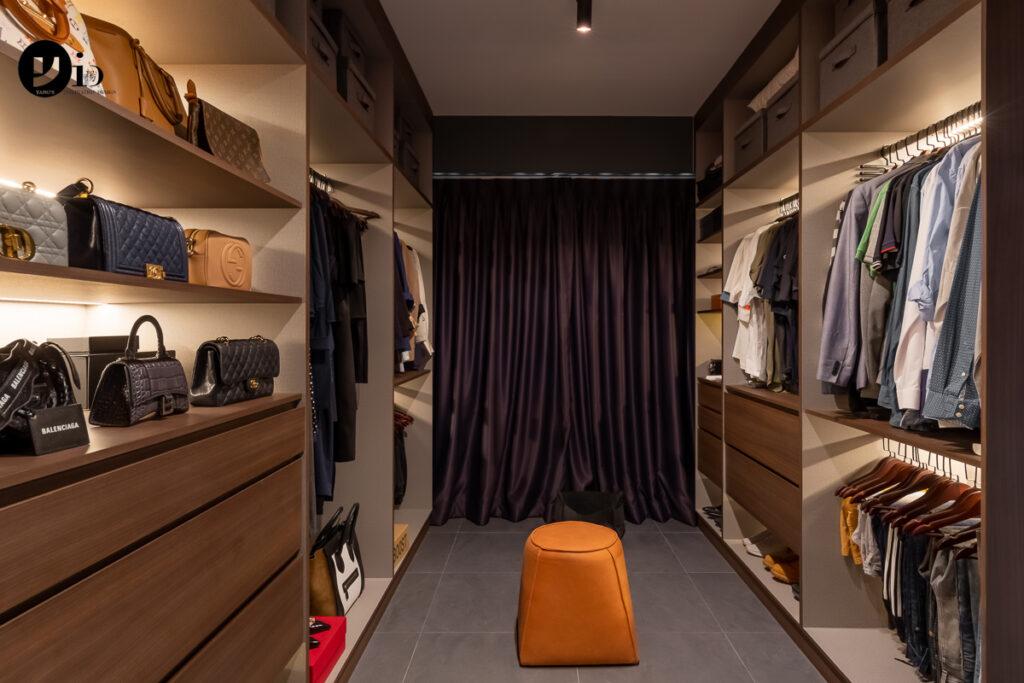 Pros
Provides plenty of storage space and is great for organising your wardrobe since there's room for you to incorporate a range of storage systems from drawers and hanging rails to shelves and accessory racks.
Useful to have if you and your sleeping partner have separate waking-up/getting-ready schedules. The dedicated closet room can provide more privacy and can minimise disturbance.
Can prevent clutter in the main bedroom. Allows you to store all your clothes, accessories and other knick-knacks in a single space.
Cons
Will need to sacrifice quite a bit of space, and in some cases, an entire room to do up a practical walk-in wardrobe.
The extra storage space can mean you aren't editing down your clothes over time and still storing ones that don't fit. This may also lead to more clutter in the end!
You may actually have a more difficult time finding what you need.
Can be a costly investment. Not only will you have to factor in the carpentry expenses, but also the additional costs of lighting and electrical work if you plan on incorporating lights.
4. Arched Elements
Pros
A trendy addition to the home and one we are seeing in a lot of HDB interior designs! We've mostly done it in doorways, as part of a built-in shelf or as a feature wall.
Lends a touch of cosy and softness to the home. Helps to alleviate the harsh lines and edges we see in an interior.
The curved element creates a sense of movement.
Draws the eye to it, immediately constructing a focal point to the room.
Cons
Requires precision in execution so not everyone will do a good job of it!
There's a chance that this specific design feature might end up looking tacky in the long run or become excessively popular to the point where people will grow tired of it.
Can limit furniture or decor placement because of the curves.
If done on walkways/corridors, may block off some light into the space.
5. Glass Divider
Pros
Great alternative to the open concept. It allows you to still have light and maintain that sense of openness and spaciousness without totally sacrificing privacy.
Allows you to still be visually connected to the other occupants at home.
Noise can be somewhat muffled through the glass.
Gives you some division of space so you can segregate furniture better.
Can be quite modern and contemporary.
Cons
Not easy to maintain or clean!
If you happen to use it as a kitchen divider, it can become quite dirty over time, especially with all the grease, if you don't stay on top of cleaning it. This can make it harder to clean.
If you opt for clear glass, it's not possible to completely eliminate visual distractions. However, you could consider textured glass, such as ribbed ones, to enhance visual privacy. Keep in mind though, this might compromise the feeling of openness that clear glass provides.
6. Shower Niches
Pros
They tend to make the bathroom look neater than conventional shelves as they are recessed so there's nothing jutting out.
Gives you the opportunity to add a more of extra detail or interest to your bathroom by tiling the niches a contrasting set of tiles.
Easy to clean since they are integrated to the wall.
Cons
Shower niches can take up quite a bit of shower space, depending on how deep they go.
Will need to plan this out with your interior designer beforehand—not something that should be 'added-on' at a later renovation stage!
If you decide to use a different set of tiles for your shower niche than the rest of the shower, it could disrupt the seamless appearance, creating visual clutter.
The height of your shampoo bottles is limited to the height of the shower niche you intend to install. You may have to decant some into smaller bottles to fit them into your niche.
7. Half-wall Shower Glass
Pros
Less glass to clean, which everyone knows is a huge pain to maintain.
The half wall lets you conceal shower mess and clutter.
Great for incorporating a shower bench on the other side.
Can be safer for those will younger children or pets—less likely to knock into the glass.
Cons
Although less glass to clean, you may have to deal with having to clean more grout—we can't decide which is the lesser of two evils.
Can feel more restrictive—both visually and physically since a wall typically takes up slightly more space than a glass panel.
Not as contemporary looking as full glass.
Will you be incorporating any of these popular HDB interior design features? Get us to help! Reach out through Facebook/Instagram/TikTok, send us an enquiry here or Whatsapp us at 8855 7575.