When incorporating a walk-in wardrobe in your HDB, most homeowners will place it either within the bedroom itself or separately, in a spare room. We will explore how to add a walk-in wardrobe in these two areas, keeping in mind both practicality and luxury.
Walk-in Wardrobe in the Bedroom
For those with limited floor space, it is most viable to have the walk-in wardrobe in the same area as the bedroom. However, you want to keep both areas distinct so that it actually feels like a walk-in.
Keeping things separate also helps to ensure that it does not interfere with your sleeping zone, which is particularly important if you share the bedroom and don't want to be disturbing the other person while you are getting ready in the morning.
Here are some ideas for creating a walk-in wardrobe in the same bedroom space:
1. Separate with a waist-height storage unit
Separate the closet and the bed with a waist-height storage unit instead of a full-height one to avoid a boxed-in feeling. This will allow natural light to come through, so there won't need to be over-reliant on extra artificial lighting. Double up the unit as a dressing table and a nightstand.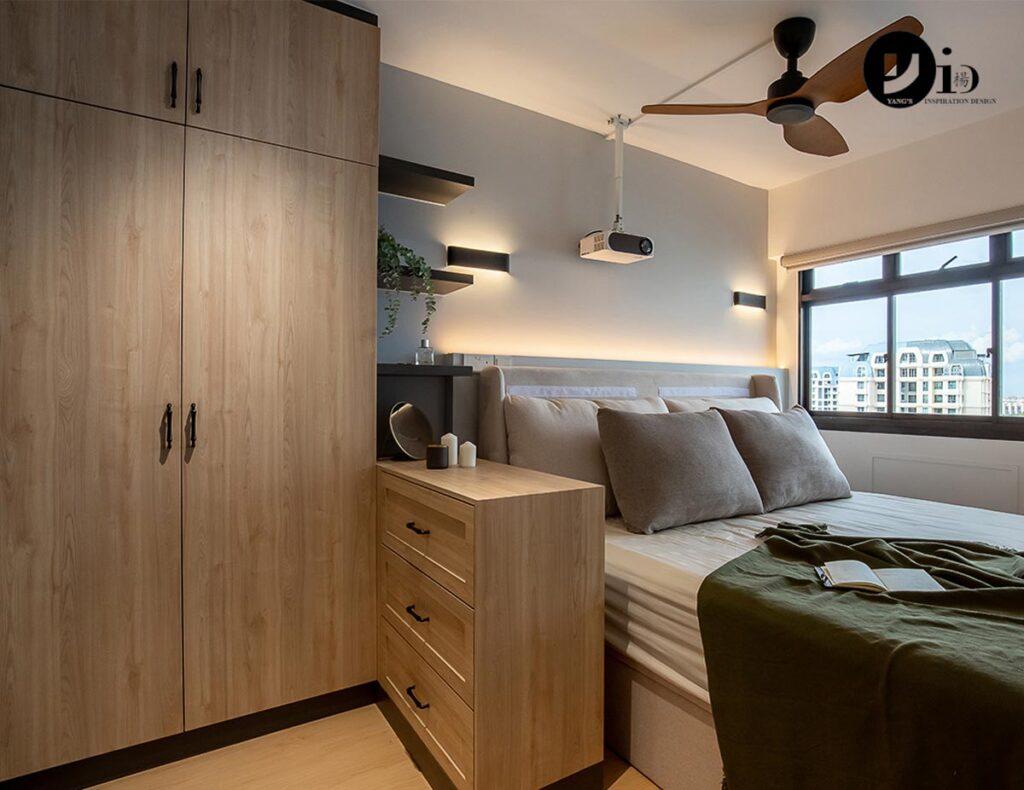 2. Make use of a platform
Use a platform to give a walk-in wardrobe vibe and demarcate the two areas without taking up extra space. The raised platform also creates an air of exclusivity and adds to the sense of privacy.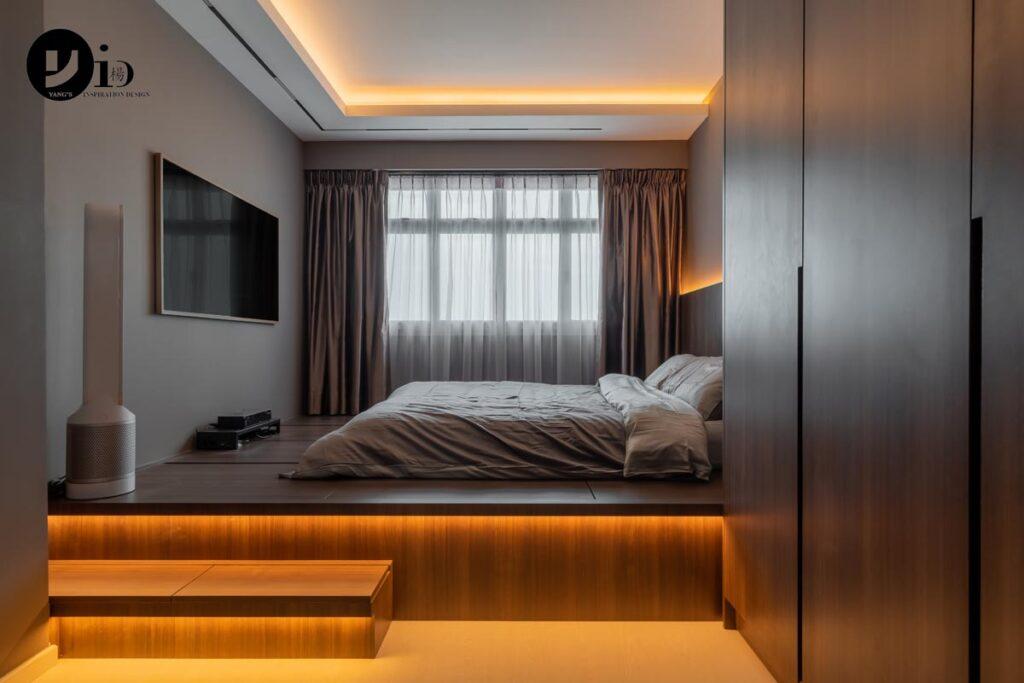 3. Have a standing vanity
Save space by having a standing vanity instead of a regular vanity with a chair. Include concealed lighting around the mirror for an even glow that's perfect for putting on makeup.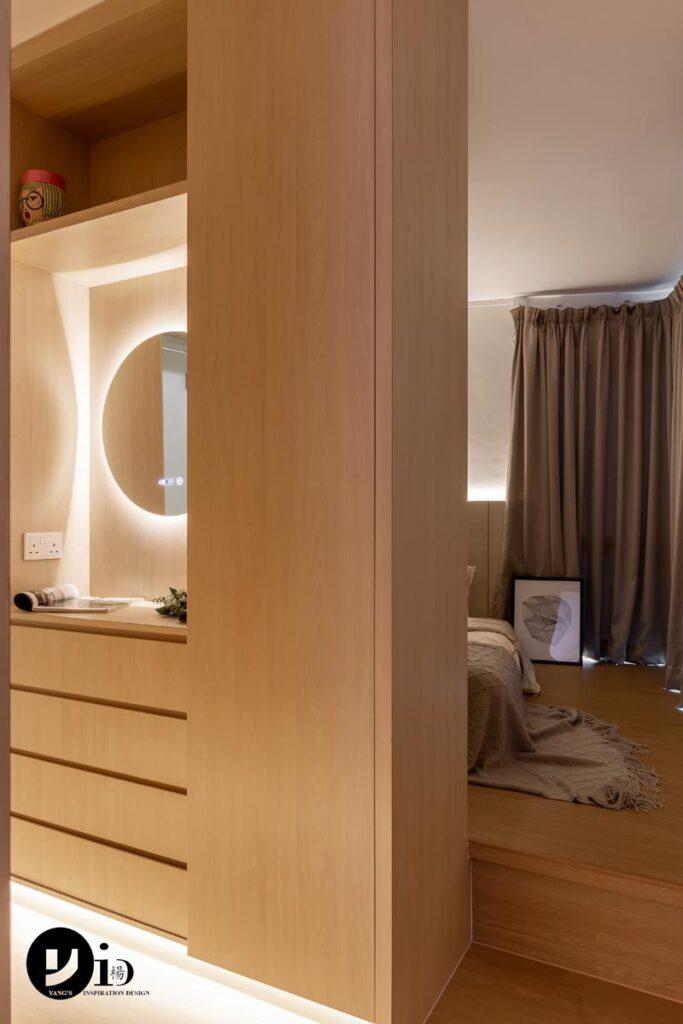 4. Go with an enclosure
Gain more privacy by choosing a full closet enclosure to store more items. Opt for sliding doors to eliminate the need for door swing clearance space. To increase accessibility, have the opening on both sides, and use translucent panels to ensure that light can still reach within the wardrobe enclosure.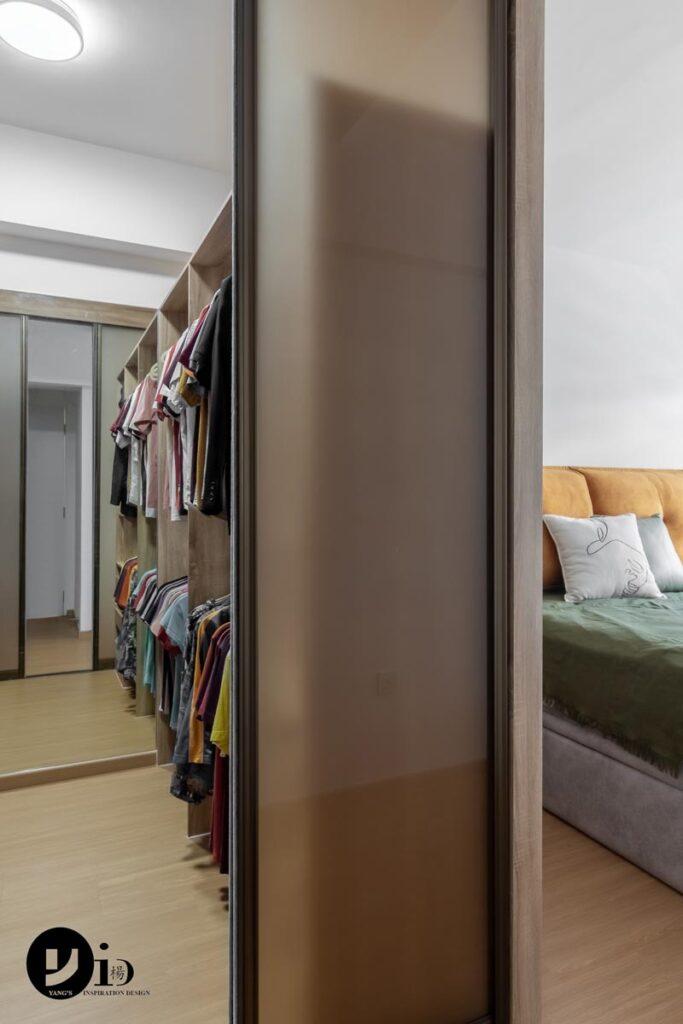 5. Dedicated display cabinet
Maximise display power by using dedicated shelves to store designer bags and other luxury wares. Locate them right by the front of your walk-in wardrobe for more visibility, and incorporate glass panels to keep dust out.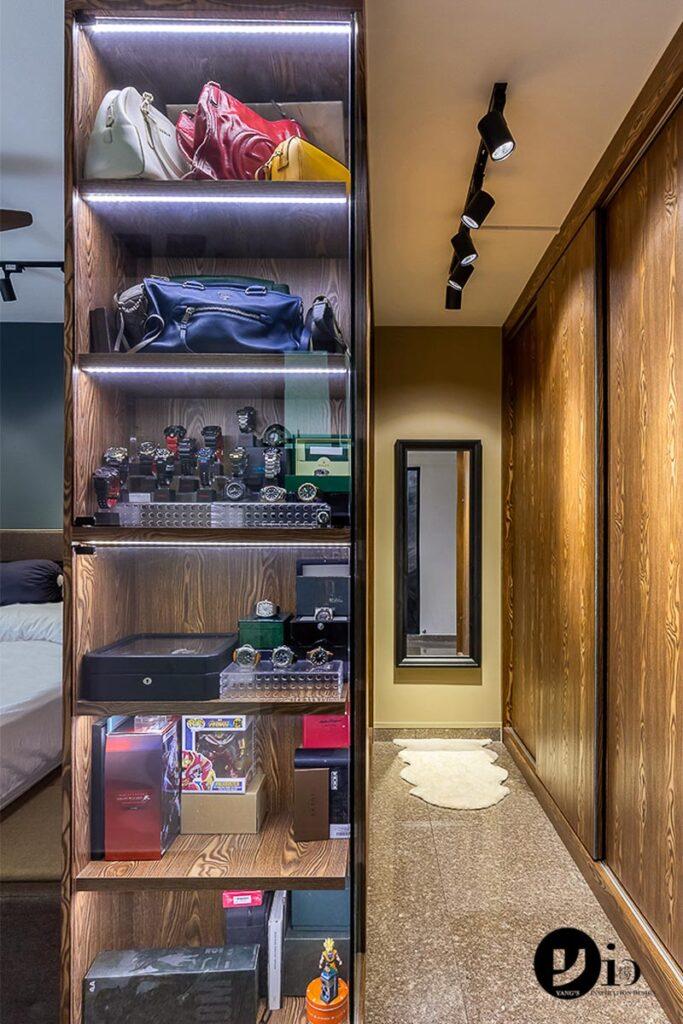 Walk-in Wardrobe in a Separate Room
Have a spare room for a dedicated walk-in wardrobe in your HDB? Lucky you. With more space comes greater storage power, but there's also the risk of under-utilising what you have. For attached walk-in wardrobes that are connected to the main bedroom in some way, you will also want to bear in mind that the style of your closet space will inevitably impact the design of your bedroom.
These tips will show you how to work in a full-fledged walk-in wardrobe in your HDB:
1. Draw visual connections
To tie a walk-in wardrobe and bedroom together, consider using similar palettes or materials in both spaces, even if they are located in separate rooms. In the example below, our designer repeated a chevron-patterned woodgrain laminate in the connected walk-in wardrobe and bedroom. Additionally, using just one flooring material will also visually join both spaces together.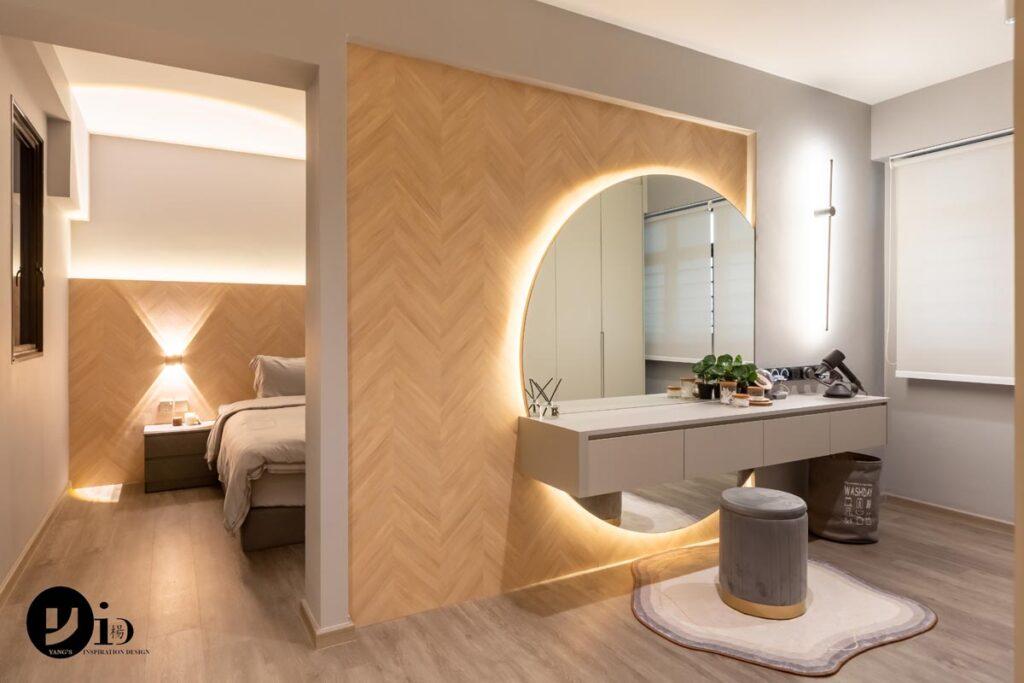 2. Have both open and closed storage options
In order to ensure everything is in sight and easily accessible, dedicated walk-in wardrobes are often designed as open-concept spaces. However, glass doors can also function the same way while keeping dust out. Consider incorporating both open and closed storage options, such as drawers, to stow things that are less aesthetically pleasing like unmentionables, bath towels, and bedding.
3. Have a multipurpose accessory island
An accessory island is a functional and elevated way to store fashion accessories. It can also provide additional counter space that can double as a dressing table. If you tend to accessorise, make full use of this high-end feature.
4. Plan out compartments properly
To use the extra wardrobe space effectively, work with our designers to plan out internal closet compartments. Create hanging space for delicate clothes, long dresses, formal wear, and easily wrinkled clothes. Drawers and shelves are useful for sweaters, chunky knits, underwear, towels, and thin T-shirts. Consider dedicated compartments such as trouser hangers and pull-out racks for scarves and tudungs to take wardrobe organisation to the next level.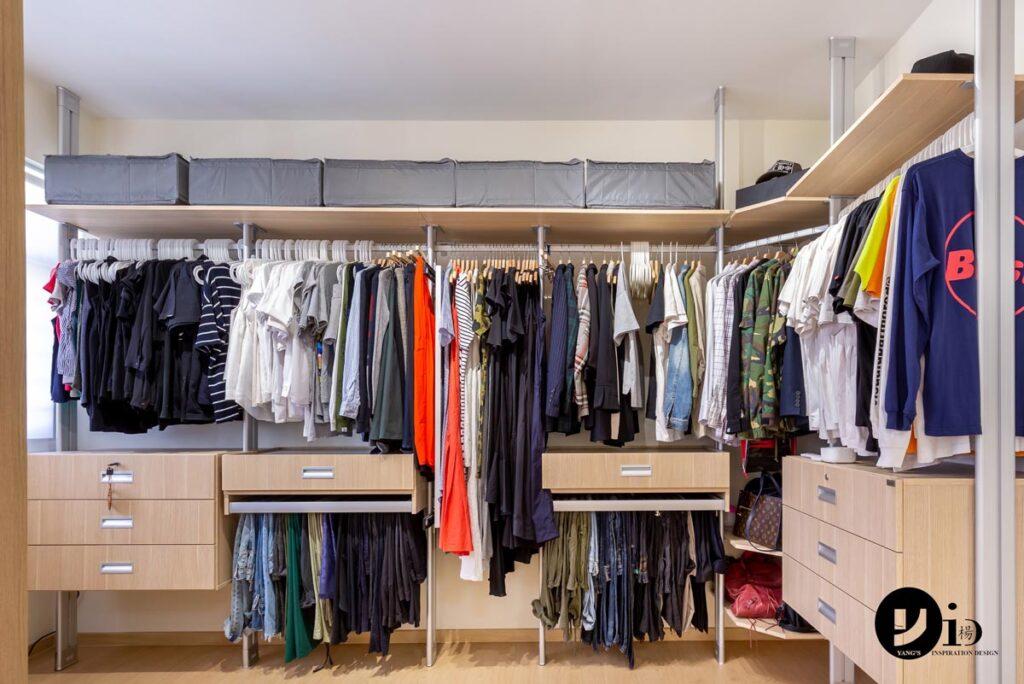 5. Don't neglect proper wardrobe lighting
A single overhead light is insufficient for a full-fledged dedicated closet space. Go with a variety of lighting options that will not only augment the functionality of your walk-in wardrobe but also create a luxurious ambience. Flexible track lights are useful for making adjustments, while recessed lights highlight your favourite shoes or bags. Warm lights can add mood and create a sense of luxury, and lights around a mirror can provide an efficient space for skincare rituals.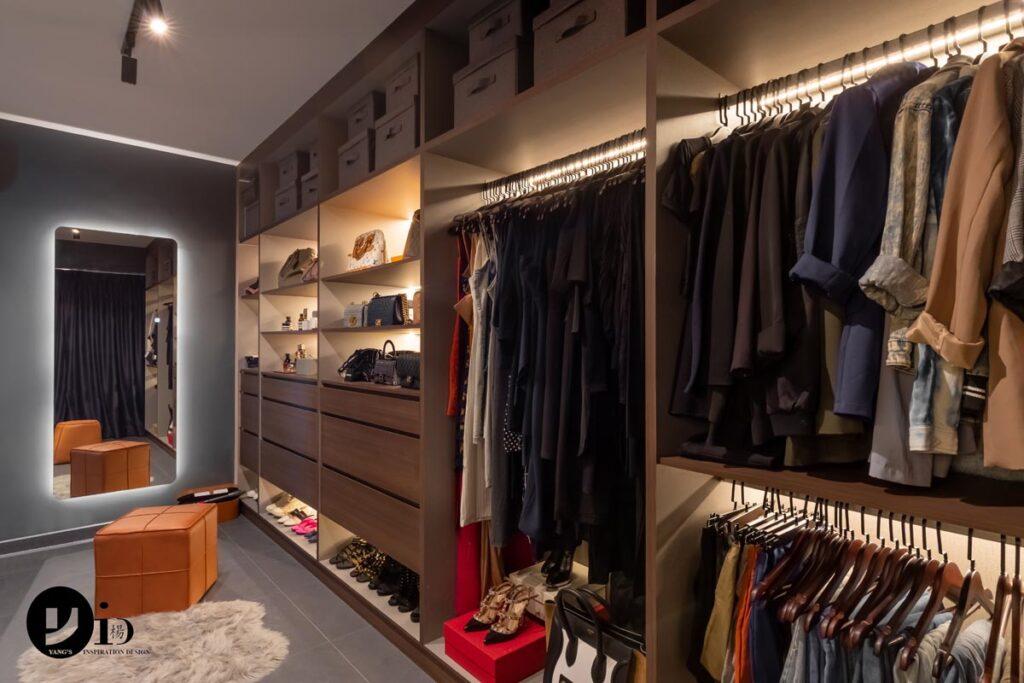 Walk-in wardrobes are the epitome of luxury. Do up your very own with the help of our professional panel of interior designers. Reach out to us through Facebook/Instagram, send us an enquiry here or WhatsApp us at 8855 7575.