Your kitchen may lack square footage, but that doesn't mean you can't get it to feel just a bit more spacious than it actually is. We put together our 12 best interior design tips for maximising storage, reducing visual clutter and creating illusions of space so you can get the most out of your small kitchen renovation.
1. Stick to a minimal palette
One of the first things to remember if you renovate a small kitchen is to keep visual clutter in check. That means you will want to streamline your colour, pattern and material palette so that they are not all over the place.
We recommend sticking to a single colour for your cabinets and possibly having the same backsplash material as your countertop. These can help to reduce visual breaks and increase the sense of space. To further augment the illusion, think about opting for a colour scheme that has low colour contrast—that is, ensuring the surfaces in your kitchen have little colour difference.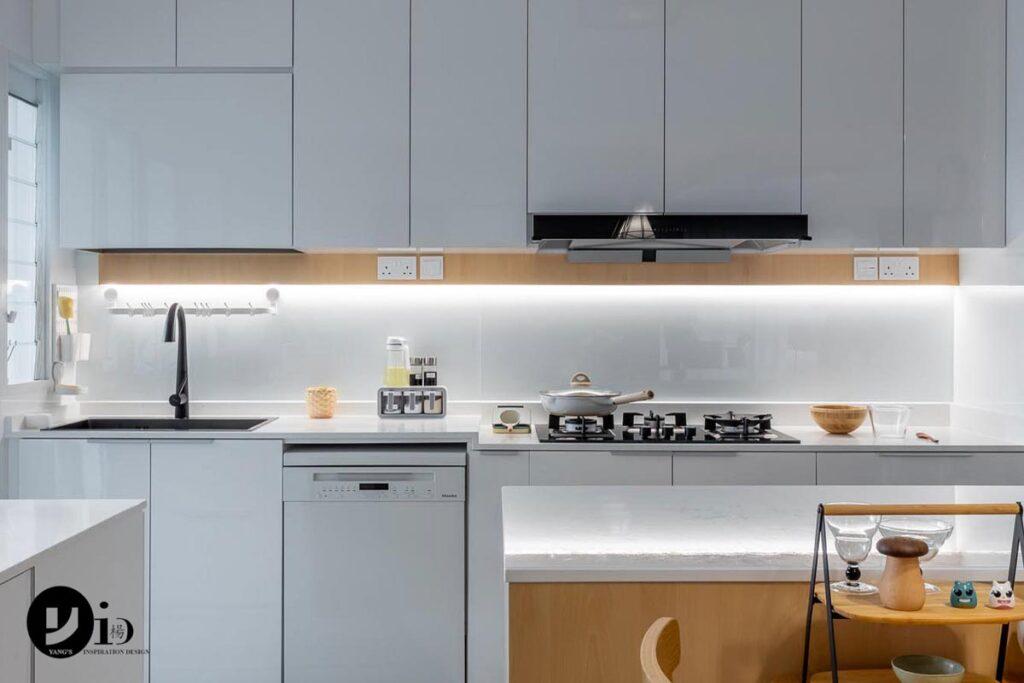 2. Make your cabinets work for you
Planning out and organising your cabinets before the renovation can help maximise storage in a small kitchen and make it easier to retrieve things. You'll want to have a mix of drawers and standard cupboards for different things. For instance, drawers are great for storing serving ware, while cupboards are great for bulky appliances.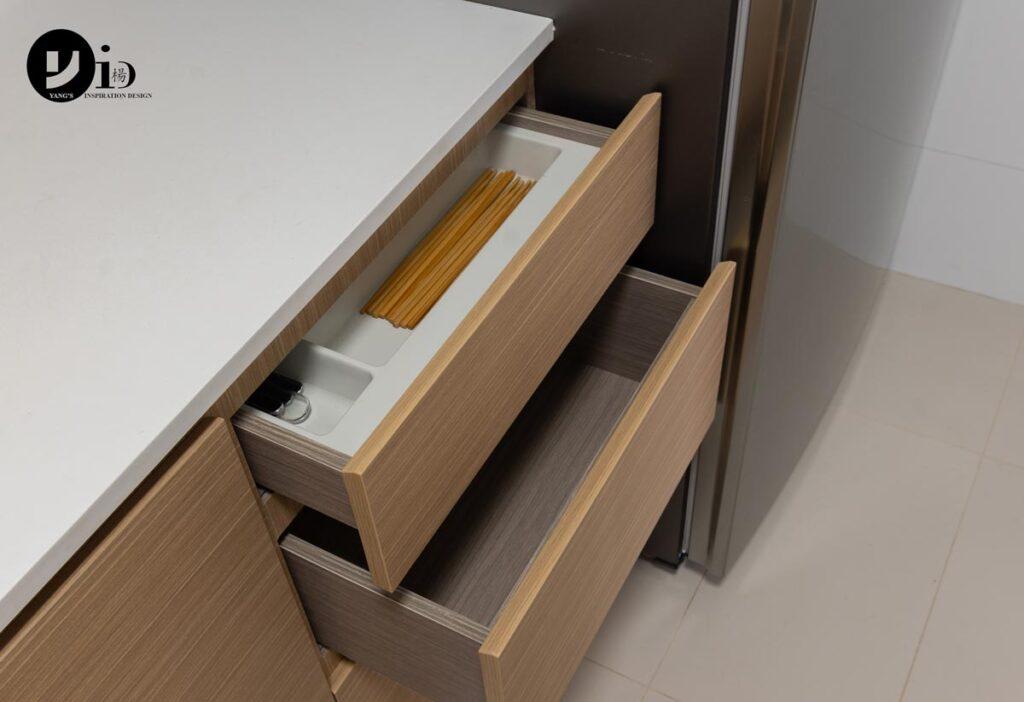 The key to the ultimate kitchen organisation though is also including inner cabinet organisers. We are talking pull-down racks for upper cabinets, pull-out drawers for a kitchen pantry, and blind corner units that will make the most of a corner cabinet.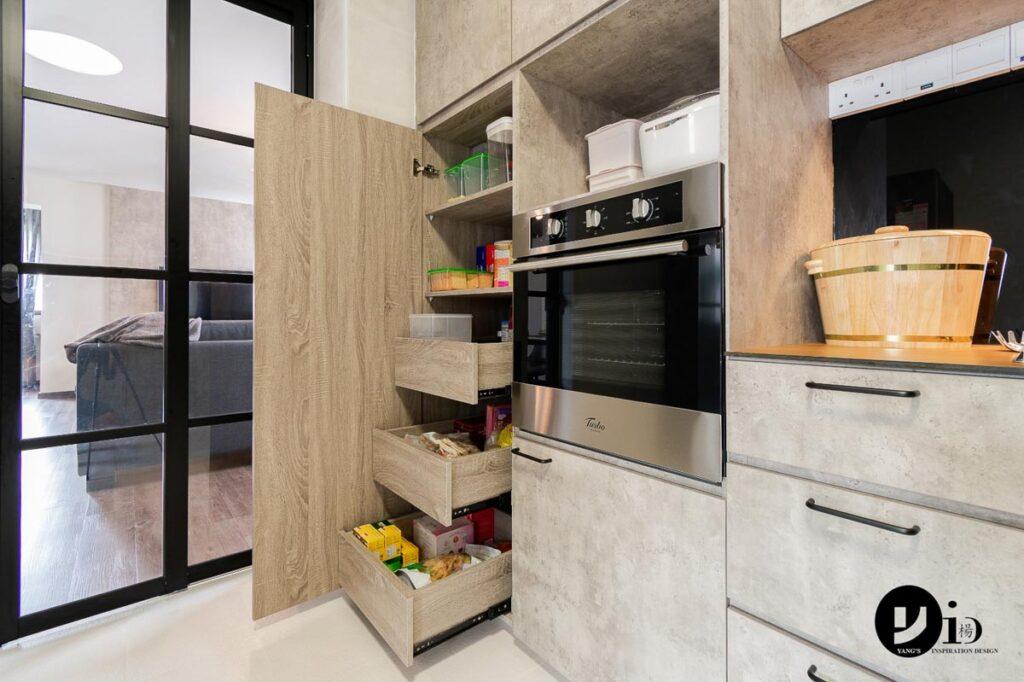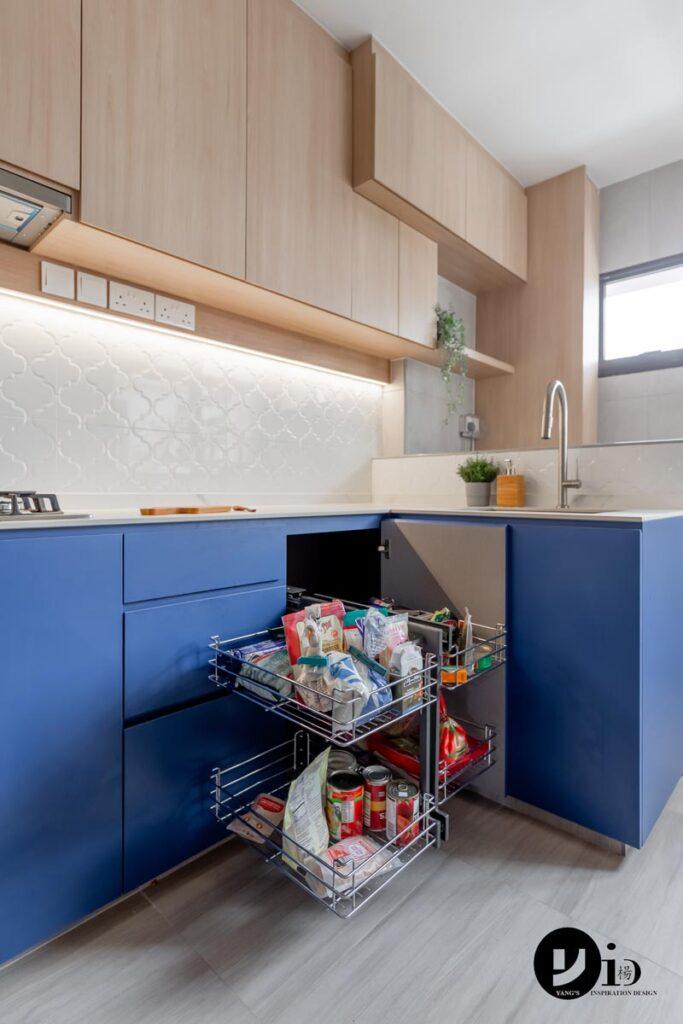 Smaller, but no less significant, ideas include rails inside cabinet doors, racks in cupboards that can help you utilise the uppermost parts, and drawer dividers so you can sort out all the different kitchen tools and utensils.
3. Consider blunting edges with curves
We like this particular interior design tip for kitchens that have countertops with exposed edges. Rather than going with a standard straight edge, consider a curved one. It's a great way to add a little element of surprise and interest without taking up a whole lot of space.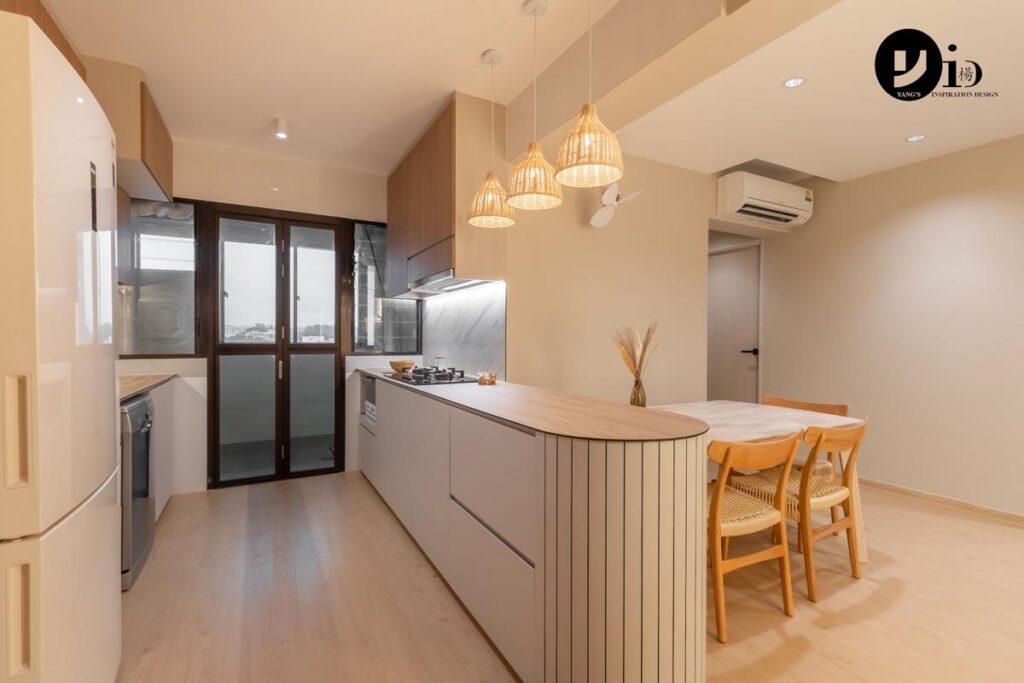 But perhaps more importantly, it helps to ease the traffic flow from one space to another, making it safer to move in and out of the kitchen, which can sometimes be a bit more precarious if you don't have a lot of space or if two or more people are using the kitchen at any one time.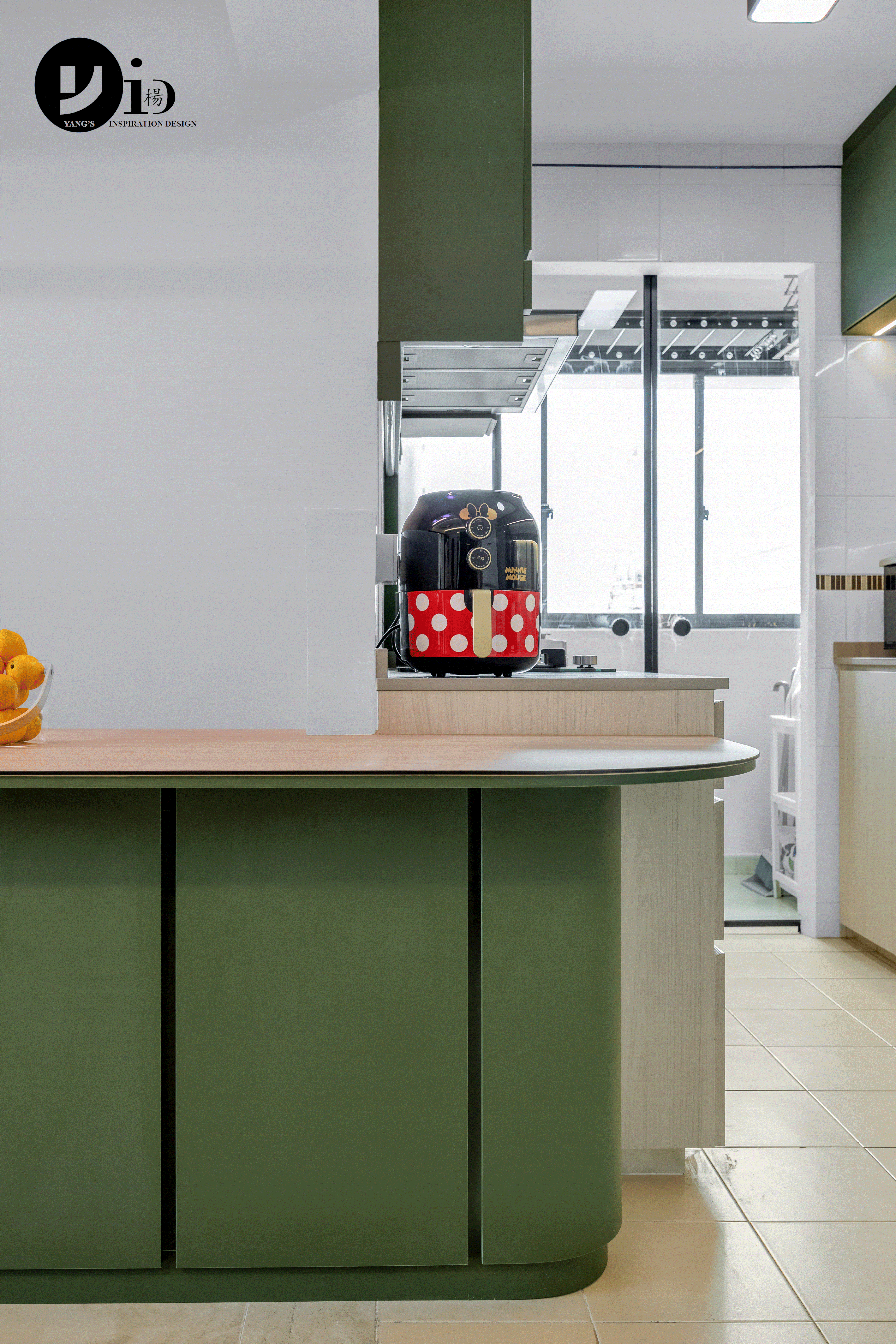 4. Keep countertops clutter-free with design solutions
As we've discussed earlier in the article, clutter is an absolute no-go in a small kitchen. An often cluttered-up space? The countertops. You want to squirrel everything away inside cabinets (as best as you can!) or find proper storing solutions for the things you frequently need to reach out for, such as rails to hang up often-used kitchen tools.
With appliances, it's a bit more difficult to lug them in and out of the cupboards particularly if they are of sizeable weight and size. Our recommendation? Get an appliance garage. This is essentially a little spot for your smaller appliances to nest. It can be installed by the side on the countertop or within the cabinets. Conceal them behind pocket doors or bi-fold doors that can help to minimise the cabinet door swing clearance space. Pro tip: install electrical outlets at the back so you can plug your appliances without having to bring them in and out.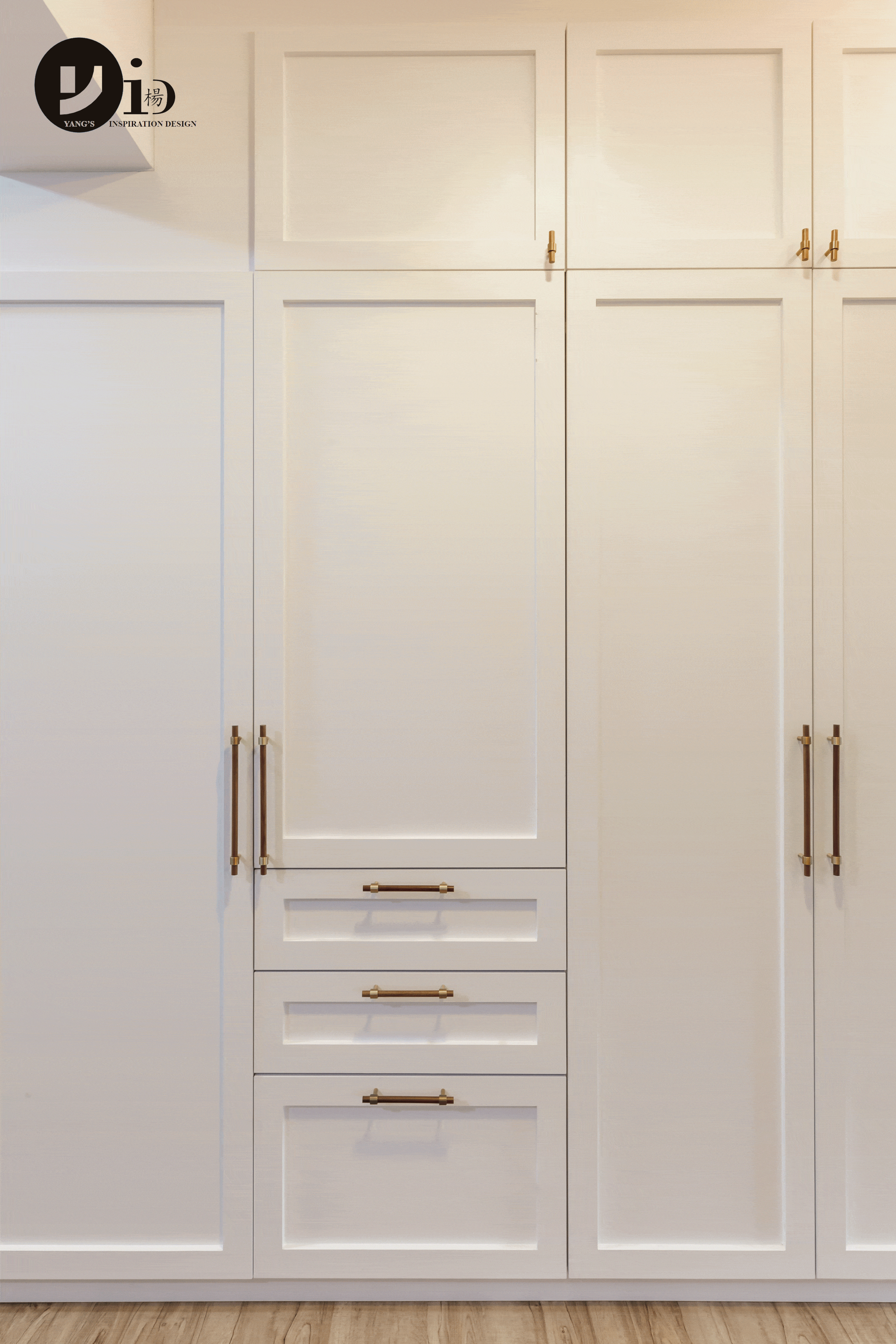 5. Open things up with glass panels
While open kitchens are a grand option for those with smaller kitchens, they aren't for everybody, especially if you do a lot of Asian-style heavy cooking. If you do decide to go for a closed kitchen, you can opt to enclose them with glass panels. This will not only help flood plenty of light in (more light = illusion of a bigger space), but the fewer concrete walls can also help open up the kitchen similar to going for an open-concept one.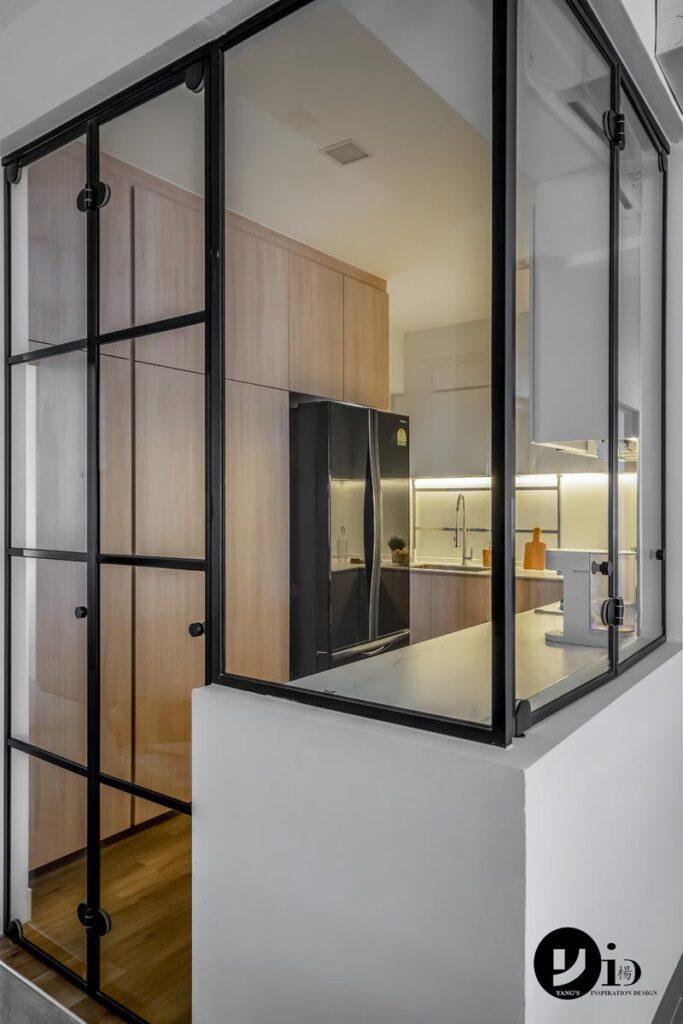 Alternatively, if cleaning all those glass panels sound like a huge pain to you, then think about just having a simple one-panel glass window. A small glass panel (see below for example!) is just enough to open up the sense of space and give the kitchen a bit more visual breathing room.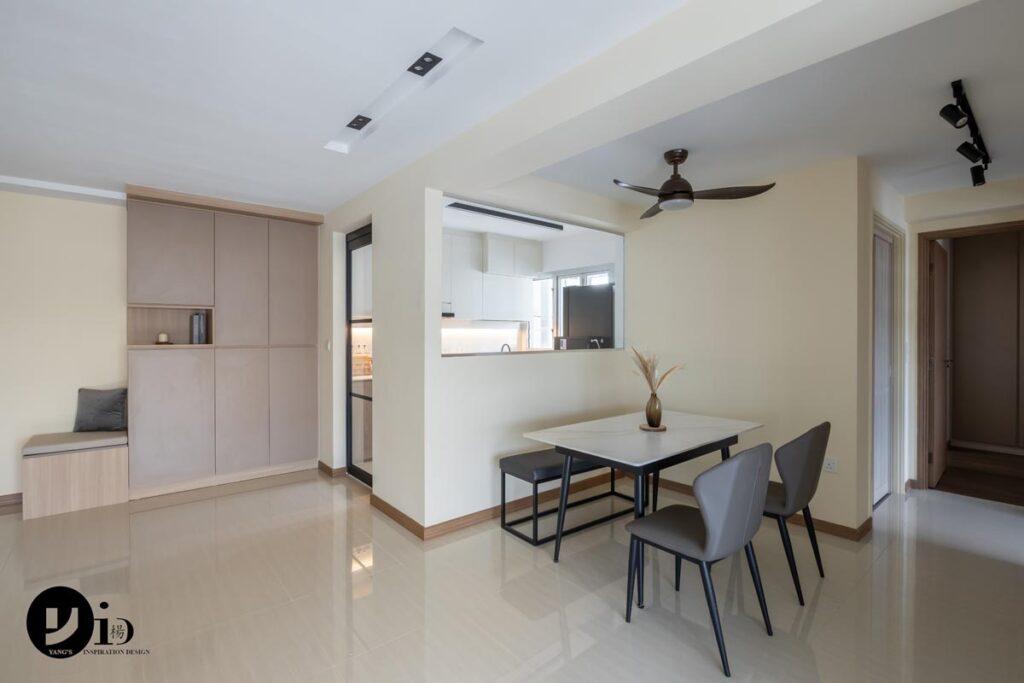 6. Make sure there's proper lighting
In interior design, lighting plays a key role in making a small space look bigger. Adequate lighting in a petite-sized kitchen can therefore go a long way to stretching out that floor estate. One tip is to use recessed and concealed types as they don't steal away extra visual space, unlike lighting types like pendants.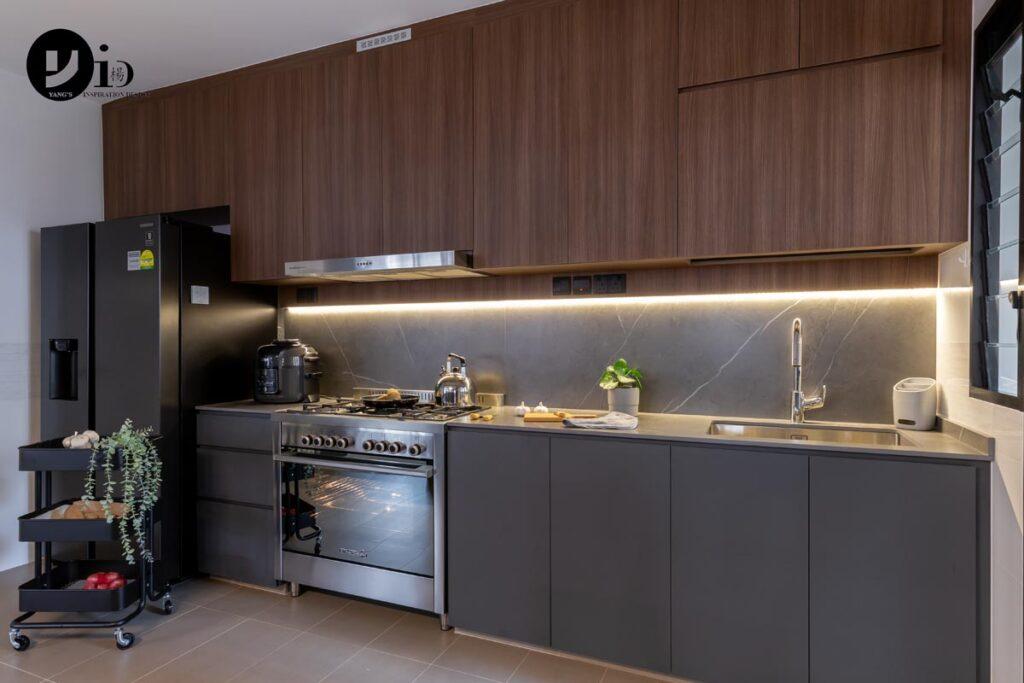 In small kitchens, under-cabinet lighting can also do wonders to illuminate your cooking and prep zones, removing shadows that expand the perception of space. Installing hidden lights at the toe-kick also makes your cabinets look like they are 'floating', resulting in a lighter and airier kitchen.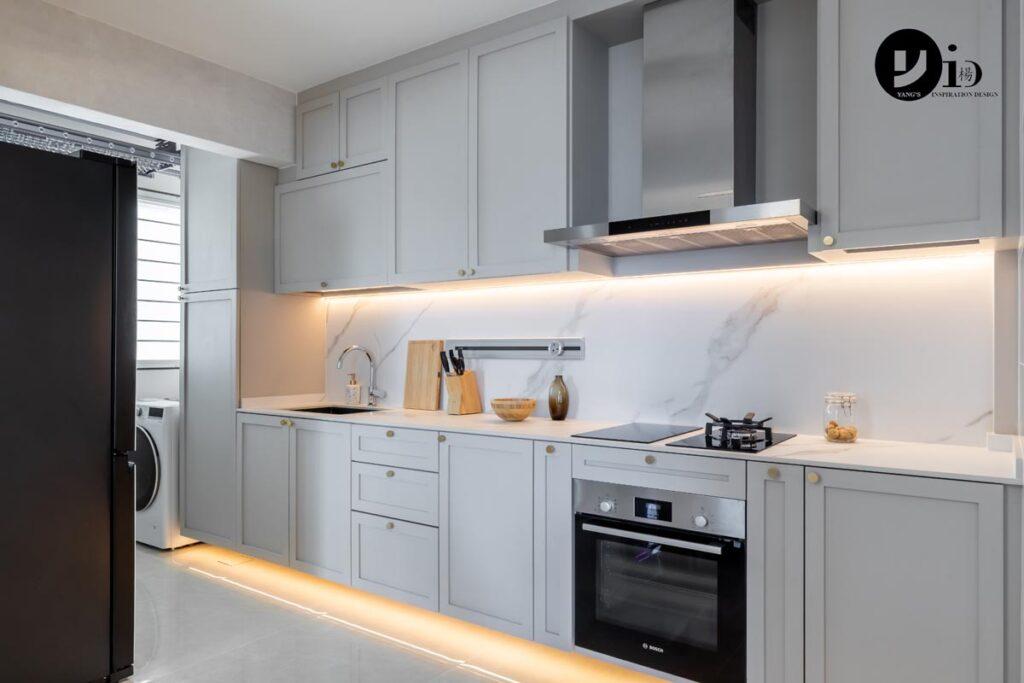 7. Move beyond the conventional confines
Who says you need to stick within the lines? If your home's layout permits, you can always expand your kitchen beyond the standard boundaries. You don't always have to re-run pipes or rework the electrical wiring, especially if it costs too much.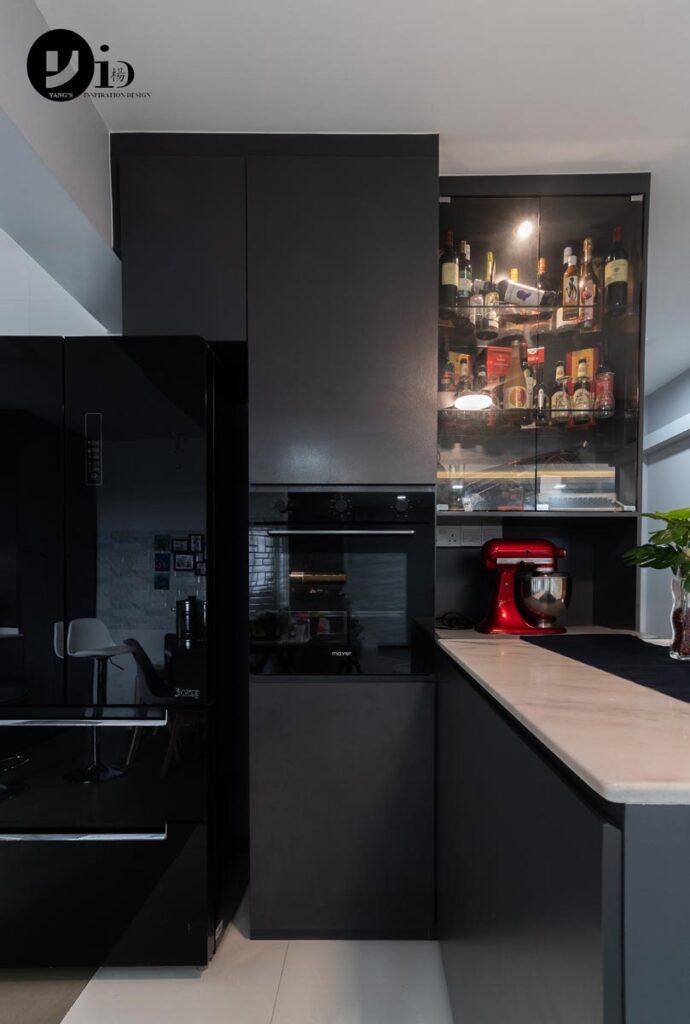 Choose to expand the kitchen's boundaries by going open concept and installing a seat-in island or setting up a separate dry-and-wet kitchen (perfect for galley-style layouts).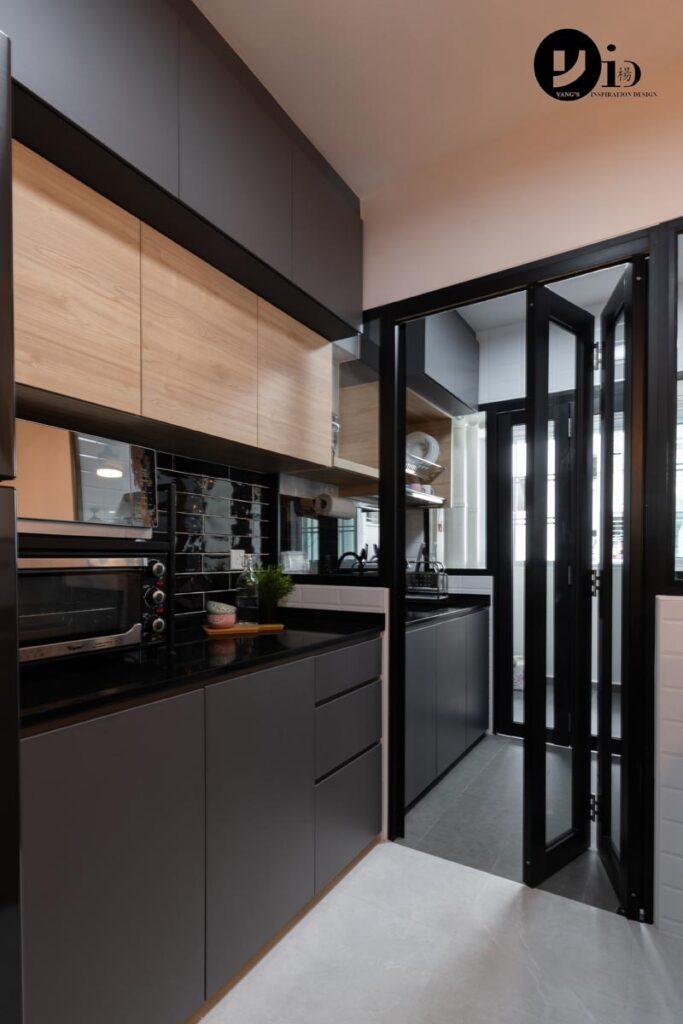 8. Swap out a couple of upper cabinets for wall shelves
Reducing visual bulk by replacing a few top cabinets with wall shelves can be a good way to make a small kitchen seem just a twinge airier and larger. There are caveats obviously, as shelves inevitably store less and can look messy if the items on display are not curated properly. And if you tend to do a lot of cooking, the grime and grease can stick onto whatever is on the shelves, making post-cooking clean-up a huge chore.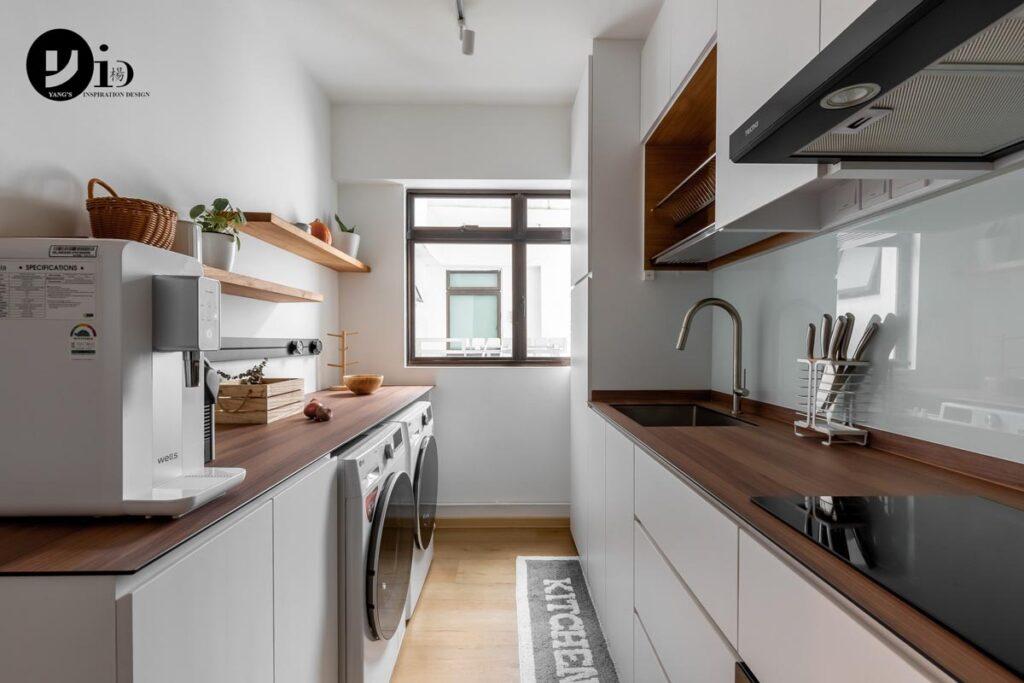 We suggest going for just a small section of shelves—just enough to reduce the visual heft without sacrificing practicality. A bonus tip for making open shelves work? Store everyday items on them so that the items get used before they have time to collect grime.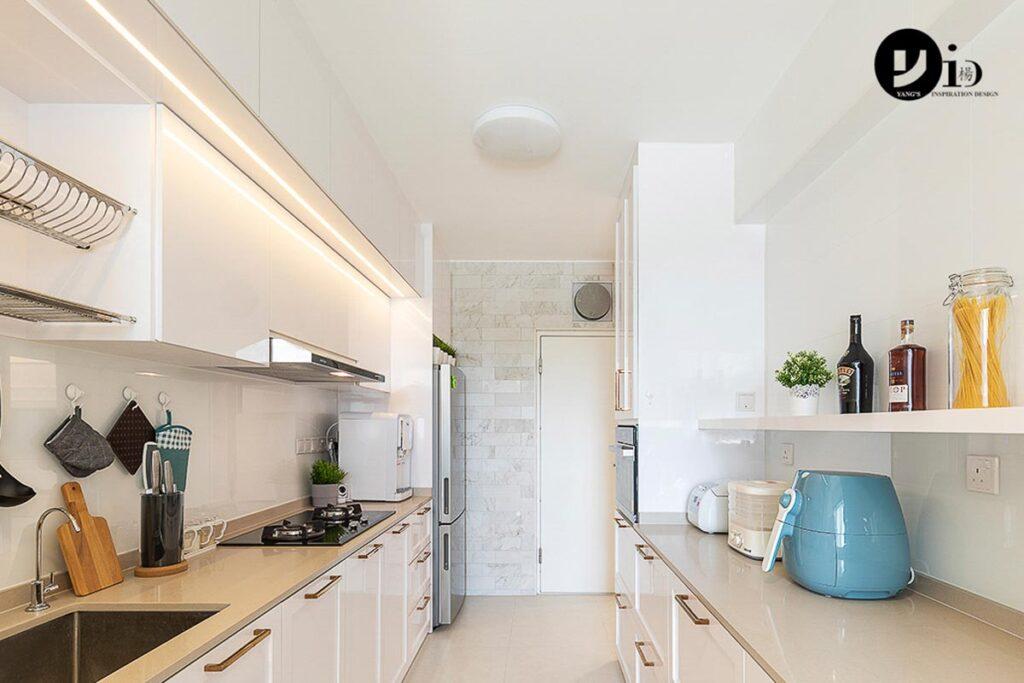 9. Get built-in appliances
Built-in appliances not only make your kitchen look expensive, but they also help to make your kitchen sleeker and more streamlined visually. A neater kitchen can trick the eye into thinking you have a bigger kitchen! Some integrated appliances cost a pretty penny, so unless you have deep pockets, opt for the less pricey option—get your interior designer to custom cabinets to the exact dimensions of your kitchen appliances!
The result is that your appliances will look just like built-in ones, minus the price tag. Make sure you go appliance shopping early and inform your designer in the first few stages of your renovation so that they will have time to set aside the necessary space for you.
10. Minimise hardware
Hardware like knobs and handles for kitchen cabinets can look really pretty—they are not called the jewellery of the kitchen for nothing! But if you are renovating your small kitchen, you may want to skip it altogether.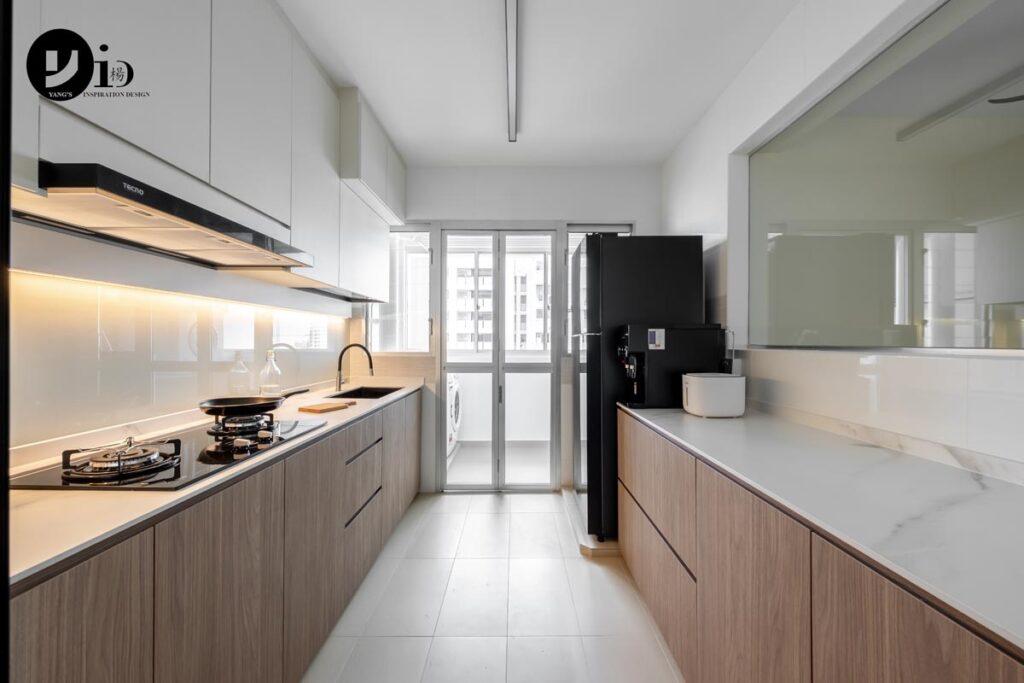 Not only do they get in the way of you moving around the space, but it also makes the kitchen feel more cluttered and cramped. We like sleek, flat-front cabinets for smaller kitchens. But if you live with older folks who have difficulty opening up these cabinet types, there's always the option of going with integrated cabinet pulls that allow for a firmer grip on the cabinet doors before pulling them open.
11. Incorporate mirrored or polished surfaces
Here's an oldie, but a goodie: use mirrors! Mirrors bounce light around, increase the depth perception of space and in all honesty, they are stylish to boot. Use them for backsplashes and upper cabinets or have them on your sliding door just like in this kitchen.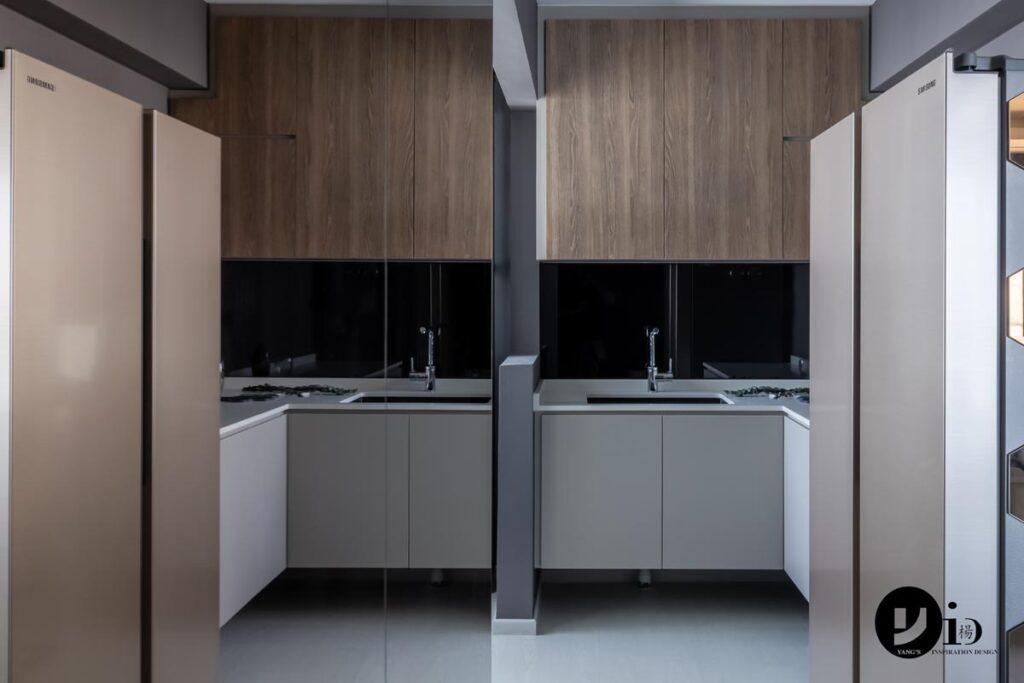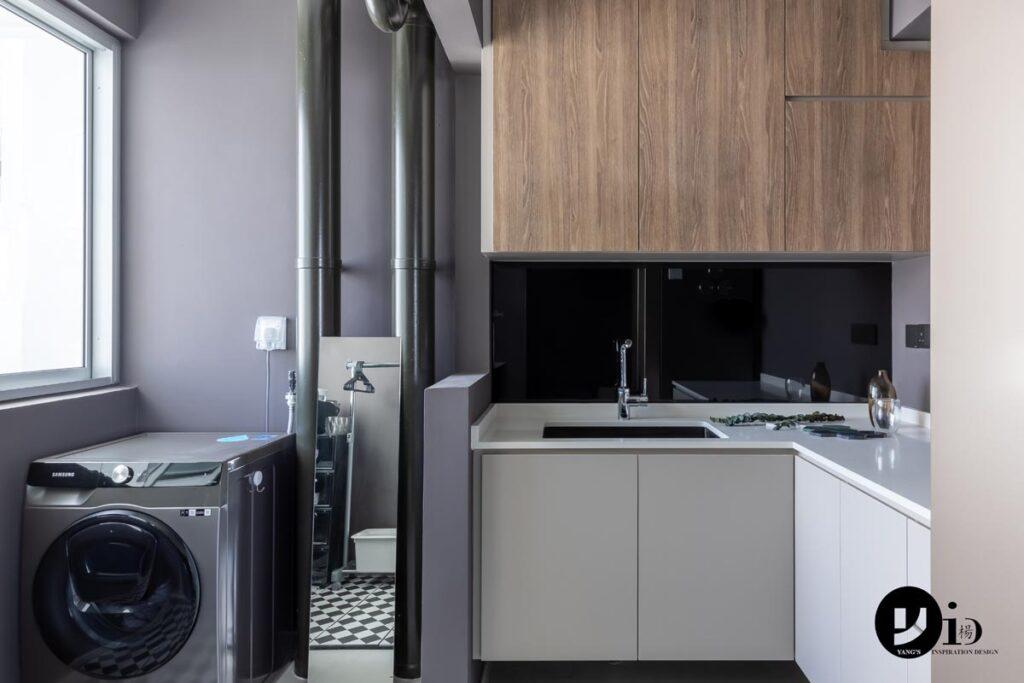 If mirrors are not your thing, incorporate glossy surfaces in your petite cooking space to provide it with a subtle sheen that can work similarly to mirrors. Choose larger surface areas to work in the shine e.g. flooring (make sure the material you opt for is slip-resistant!), backsplash, countertops or cabinets.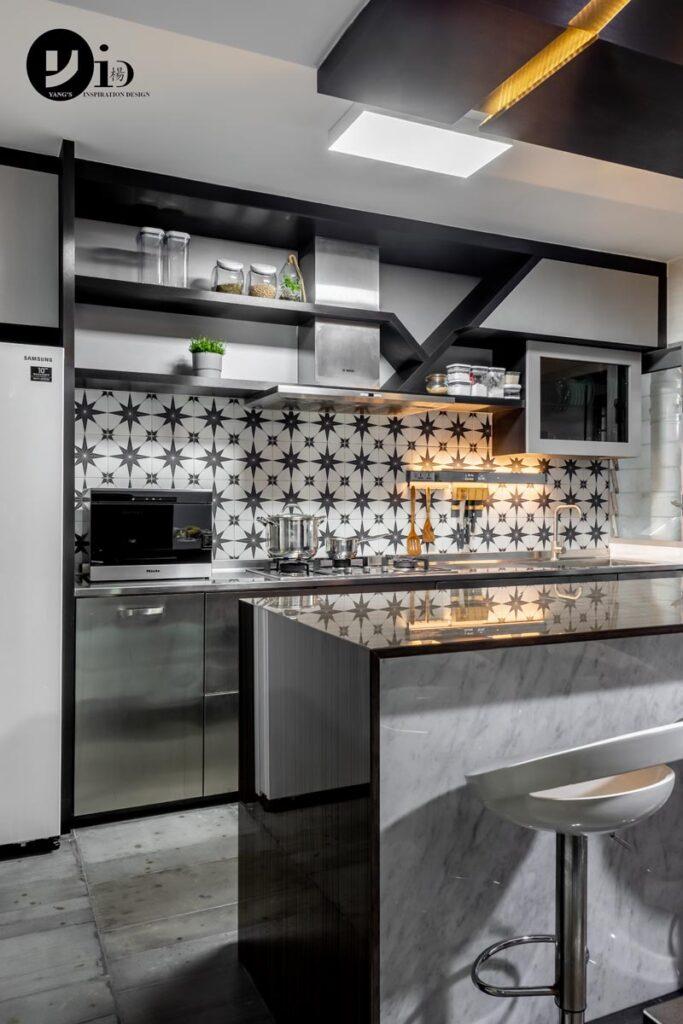 12. One-piece backsplash
Our final tip? Get a one-piece backsplash. They are all the rage this season and we love them not only for their lack of grout lines and joints—making them easier to clean—but also for how fabulous they look. Once again, no joints = less clutter = more seamless = illusion of a bigger kitchen!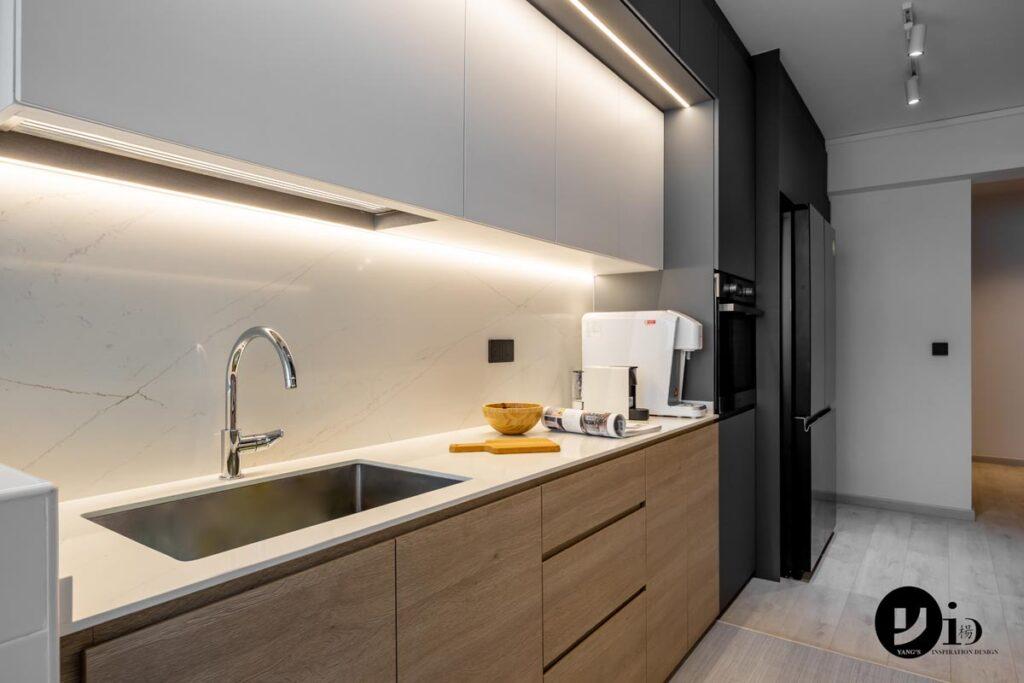 You can go with large-format tiles (we've seen ones that go up to 2500mm long) or engineered stone like quartz or sintered stone. We like ones with just a bit of subtle veining, so it looks like you have an entire slab of marble up there.
We hope the tips have been useful in planning your own small kitchen. But it always helps to speak to our team of interior design experts personally. If you are keen to get more personalised insights for your home renovation or kitchen renovation, you can always reach out to us through Facebook/Instagram, send us an enquiry here or WhatsApp us at 8855 7575.